The food of Beijing ranges from spectacular imperial dishes to comforting home-style dishes. In this ancient capital you can absolutely fond some tasty local dishes. Below are 10 kinds of food that you should have a try in Beijing.
1. Peking Roast Duck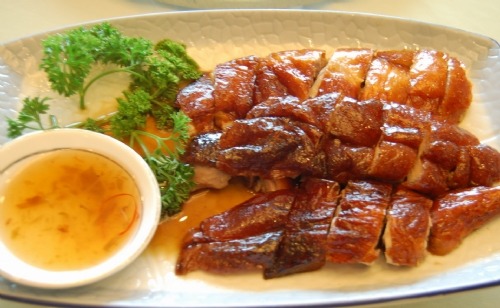 Peking Roast Duck is a must-try food in Beijing. The dish is well-known for its tempting shining color, crispy skin and tender meat. The whole roast duck will be placed in front of guests and sliced into pieces by the chef. The sliced meat will be eaten together with pancakes, cucumber, spring onion and a sweet bean sauce (check Peking Roast Duck restaurant lists).
2. Instant Boiled Mutton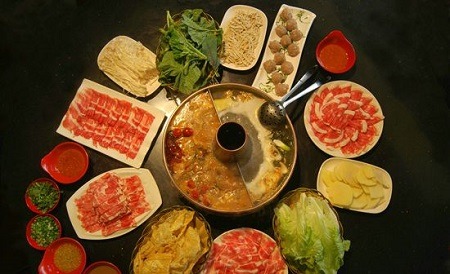 Instant Boiled Mutton is a famous Beijing dish which dates back to the Yuan Dynasty. Sliced mutton will be put in a hotpot and boiled in soup. It is usually served with sesame sauce, preserved bean curd, leek flower and sliced spring onion (Check list of hot pot restaurants in Beijing).
3. Zhajiang Noodles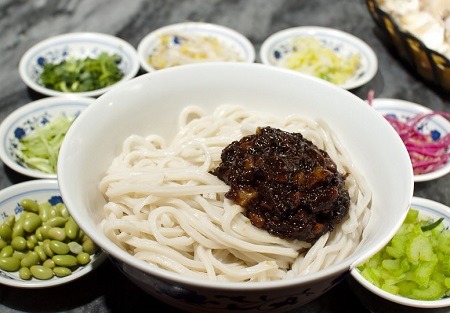 Zhajiang Noodles, or Zhajiang mian, is a popular noodle dish in Beijing. The dish is made with hand-pulled wheat noodles served with shredded cucumber bean sprouts, bright radish, and soybeans and bean sauce.
4. Bean Soup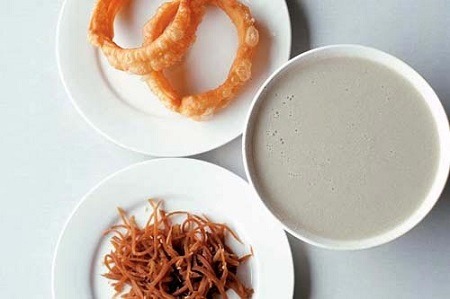 Bean Soup (or Dou Zhier) is a traditional soup with a distinctive flavor in Beijing. The soup is grayish green, mellow, sour and slightly sweet. Local Beijing citizens have a special preference for it. You may have a try if are brave enough.
5. Lu Zhu Huo Shao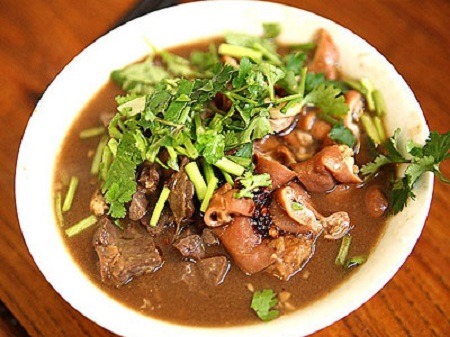 Lu Zhu Huo Shao (or wheaten cake boiled in meat broth) is a popular dish in Beijing. Several ingredients including baked wheaten bread, tofu, pork chop, chitterlings and pork lung are cut into pieces and boiled in meat broth. The dish is usually served with mashed garlic, chili oil, vinegar, fermented tofu, chives and coriander.
6. Chao Ganer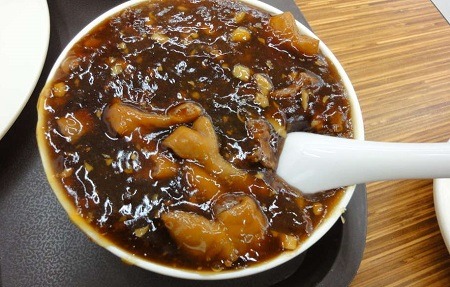 Chao Ganer (Fried Liver) is a popular eatery in Beijing. The dish is cooked with pork's livers and intestines with garlic, starch, soy, garlic, bone soup and other ingredients. Yaoji Chaogan Restaurant near Drum Tower is the best place to enjoy the dish.
7. Guan Chang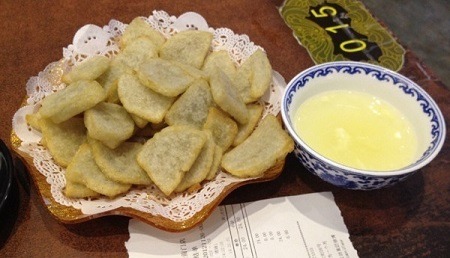 Guan Chang (or Filled sausage) is a popular snack for native Beijing people. Flour or starch is mixed with some spices and then stuffed into prepared pigs' intestines. The sausage is then boiled and cut into pieces to be fried. It usually served with mashed garlic sauce.
8. Bao Du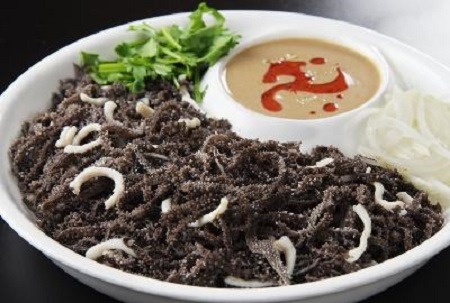 Bao Du (Boiled Lamb Tripe) is a famous local snack in Beijing. This Islamic food is made of lamb tripe. Fresh lamb tripe is cleaned, cut into pieces and then cooked in boiling water. It is often served with sesame sauce, vinegar, chili oil, soy sauce, spring onion and other seasonings.
9. Lvdagun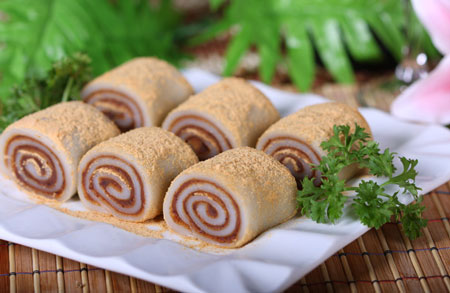 Lvdagun is made from millet flour or sticky rice stuffed with red bean paste. And then the formed Lvdagun is trundled in sesames. Lvdagun is characterized by fragrant, glutinous and sweet.
10. Wan Dou Huang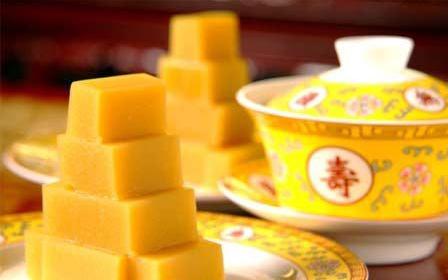 Wan Dou Huang (Pea Flour Cake) is a favorite springtime food. It is a savory cake that is prepared by mixing green peas puree into a cake batter to create a green tinted cake. It has both nice look and nice taste.