Luoyang Tours
Luoyang (洛阳), located in central plain of China, is a cradle of the Chinese civilization. It is the capital of 13 Chinese dynasties which saw 105 emperors in its 1529 years of capital history.
There are many famous tourist attractions in Luoyang. Longmen Grottoes (龙门石窟), located in the southern suburbs of the city, is the main attraction of Luoyang. You will find more than 2,000 Buddhist caves and over 100,000 Buddha statues carved since the Northern Wei Dynasty. Another important ancient site is the White Horse Temple (Bai Ma Si, 白马寺), the first Chinese temple in China built in the Eastern Han Dynasty. Besides, Luoyang is famous for its peony, Luoyang Peony Festival is held from April 10 to May 10 every year, when all kinds of peony flowers attract lots of tourists from both home and abroad.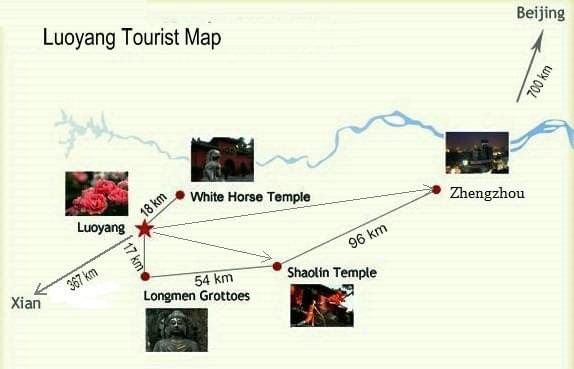 The Shaolin Temple (少林寺), the cradle of Chinese Zen Buddhism and Kungfu, is just 65 from Luoyang and 1.5 hour drive. Travelers often visit the Shaolin Temple and Longmen Grottoes on in one day.
Luoyang can be easily accessed by both trains and flights. The Longmen Railway Station runs bullet trains from Zhengzhou, Beijing and Xian. The Luoyang Railway Station has normal speed trains to cities like Shanghai. The Luoyang Airport operates flights from Beijing, Shanghai, Hangzhou and Kunming, and the international cities of Hong Kong and Bangkok.
Luoyang has four distinct seasons with average temperature about 15C (59F). Its spring is dry and windy, and April is a good time to visit Luoyang when it has pleasant weather and the world famous Peony Festival is held. Summer is hot and rainy. Autumn starts from October and is very short, it is the best time to travel to Luoyang. Winter is cold and dry, travelers need to prepare warm clothes.
Into China Travel provides different Luoyang, choose your favorite tours below:
Visit Luoyang's most famous tourist sites on the same day. Explore the Longmen Grottoes to see spectacular collection of Buddhist rock carvings and learn about Buddhist culture of ancient China. […]

This Xian Luoyang tour will take you to visit both Xi'an and Luoyang, two ancient capitals in China. You will not only visit the amazing Terracotta Warriors and Horses in […]

Chinese high-speed railway system is a true marvel of 21st century travel and traveling in the bullet train is a must experience for visitors to china. This 9-day tour covers […]