Silk Road Tours
The Silk Road, or known as the Silk Route, is one of the world's most famous trading routes; this ancient route links China with Europe. Mixed culture and history along this route make it one of the world's greatest journeys. A Silk Road tour is a life time trip that every world traveler should take.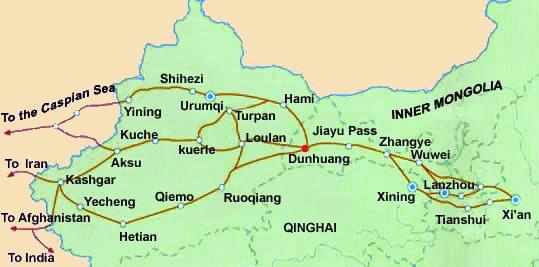 Follow the footsteps of traders, tyrants and artists along this ancient trading road, our Silk Road tours will take you to visit its China sections including provinces of Shaanxi, Ningxia, Gansu and Xinjiang and the major cities along this road such as Xian, Dunhuang, Turpan, Urumqi, Kashgar, Gaochang.
The Silk Road tour is a fantastic journey which connects modern-paced adventure with ancient culture. You will travel across diverse rugged landscapes to view some most magnificent relics of China. From Muslim minarets to grottoes in the desert and local Sunday Market, it is really an unforgettable Eastern journey.