Zhangjiajie Tours
Zhangjiajie (张家界) is located in northwestern area of central China's Hunan Province. The city grew up with tourism and impresses every visitor with its breathtaking scenery. As the saying goes: "If you want to see water, go to Jiuzhaigou; if you want to see mountains, travel to Zhangjiajie", Zhangjiajie is a must see if you wan to feel the amazing natural mountain scenery of China.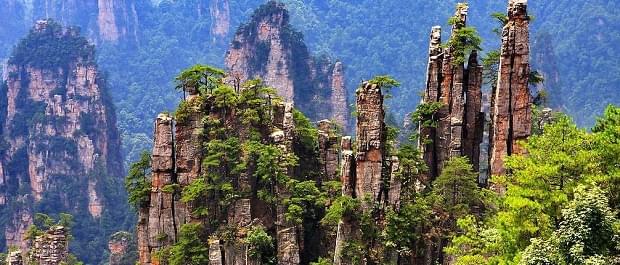 Highlights of Zhangjiajie
Zhangjiajie's world-famous UNESCO natural heritage site "Wulingyuan Scenic Area" covers 264 square kilometers with three thousand towering stone peaks and eight hundred streams. Every traveler to Wulingyuan will be attracted by its sandstone peak forests and magnificent karst landscapes, feeling like being in a wonderland. Therefore, Zhangjiajie is called "the original version of Chinese landscape painting" and "miniature wonderland, enlarged bonsai."
In 2010 the first 3D movie "Avatar" filmed for its Pandora city in Zhangjiajie, which makes its beauty become worldwide famous. In 2016, Zhangjiajie Grand Canyon Glass Bridge, the world's longest and highest glass-bottomed bridge, opened to the public, providing stunning panoramic views for thrill-seekers.
Zhangjiajie Tourist Map
[caption id="attachment_5815" align="aligncenter" width="620"]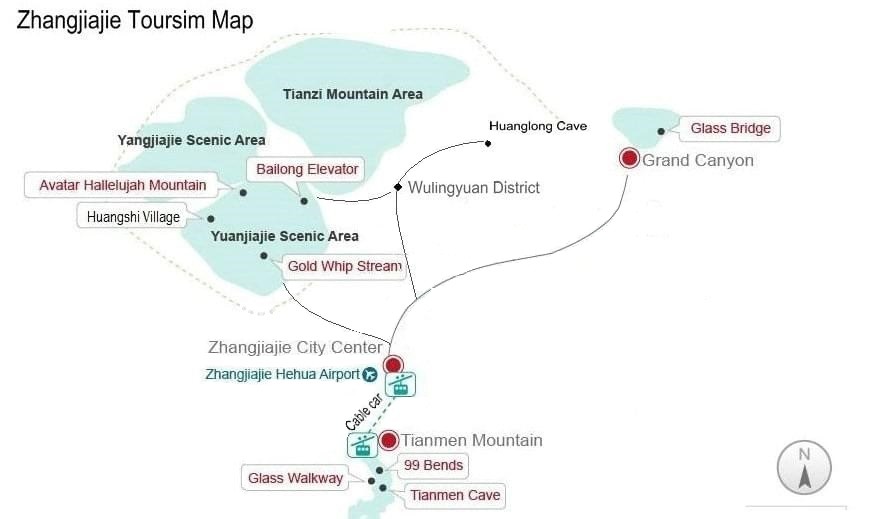 Zhangjiajie Tourist Map[/caption]
---
What to See in Zhangjiajie
The major attractions to see in Zhangjiajie include Zhangjiajie National Forest Park ( consisting of Yuanjiajie, Tianzi Mountain, Yangjiajie, Huangshi Village, and Golden Whip Stream), Tianmen Mountain and Zhangjiajie Grand Canyon Glass Bridge. If you are interested in ancient town, you can extend your tour to Fenghuang Ancient Town.
The Best Time to Travel to Zhangjiajie
The best time to visit Zhangjiajie is from April to October. Advise to spend 3-4 days visiting major attractions of Zhangjiajie.
How to Get to Zhangjiajie
There are direct flights available from: Beijing, Xian, Shanghai, Guangzhou, Changsha, Shenzhen, Nanjing, Chengdu, Hangzhou, Kunming, Chongqing.
There are trains to Zhangjiajie from Changsha, Beijing, Shanghai, Yichang, Guangzhou, Nanning, Taiyuan, Kunming, Jinan, however it usually takes more than 10 hours to Zhangjiajie by train, so advise to take flight, which is much faster.
Zhangjiajie Tour Packages
We provide different guided Zhangjiajie tour packages with affordable prices, check our itineraries below and start your Zhangjiajie trip! Each tour is flexible and can be customized according to your own wishes.