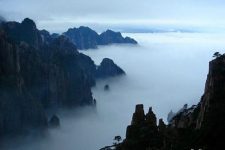 Huangshan Scenic Area (黄山 Huángshān The Yellow Mountain) is located in the southern part of Anhui Province. Xu Xiake (徐霞客, 1587—1641), a noted Chinese geologist and traveler who traveled to Huangshan twice, praised that: Visitors don't need to see other mountains after traveling to "The Five Mountains", and they don't need to see other 4 mountains after traveling to Huangshan Mountain. Huagnshan's combination of strange pines, oddly-shaped rocks, seas of cloud, and hot springs make it rank the first place of China's ten top famous mountains. This Huangshan day tour will take you to visit the highlights of Huangshan Mountain including round way cable cars.
Tour Code: HST07
Tour Type: Private tour
Departure: Daily
Duration: 1 day
Language: English
---
---
Tour Itinerary
Guide and driver pick you up from Huangshan (hotel, railway station or airport). Drive to Huangshan Scenic Area (1 hour ride) and start your Huangshan Mountain tour.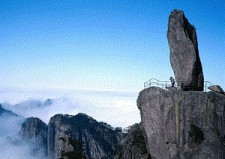 Take the Yungu cable car to the top of Huangshan Mountain. Visit Beginning-to-Believe Peak (Shǐxìn Fēng, 始信峰), Brush Pen Peak (Bǐjià fēng 笔架峰), followed by Lion Peak (Shīzi fēng 狮子峰) and A Monkey Gaping at the sea (Hóuzī Guān Hǎi, 猴子观海).
Have lunch in a local Chinese resturant on top of Mountain.
After lunch, enjoy magnificent views at Cloud-dispelling Pavilion (Páiyún Tíng, 排云亭),see the famous Flying-over Rock (Fēilái Shí, 飞来石) followed by Brightness Summit (Guāngmíng Dǐng 光明顶).
Then take cable car down the Huangshan Mountain. Transfer back to Huangshan city (your hotel, railway station, airport). End of your Yellow Mountain tour.
Price Details (per person in US$):
Travelling Party
Tour Cost Per Person
1 person
$ 365
2 persons
$250
3 – 5  persons
$ 215
6 – 9  Persons
$ 179
10 persons and above
$ 157
The above Huangshan day trip prices above do not apply to Chinese festivals such as May Day Festival, Spring Festival, National Holiday.

Service includes
1. Private car or van with experienced driver.
2. Private English-speaking tour guide.
3. Entrance fees to tourist spots mentioned above.
4. Cable car up and down Huangshan Mountain.
5. Chinese lunch in local restaurant.
Service excludes
1. Transport to and from Huangshan
2. Hotel accommodation
3. Personal expenses
Booking
Tel: +86 178 1320 5162
E-mail: service@intochinatravel.com
Skype ID: intochinatravel
---
Huangshan Travel Tips
Go up the mountain with light packs to avoid consuming too much strength.
The Huangshan weather is changeable, sometimes may be rain, bring a raincoat when climbing.
The Huangshan mountain temperatures are relatively low at night and early morning. Take sweaters or other warm clothes with you.
Advise to wear hiking shoes. For safety, you can buy a bamboo stick or walking stick when climbing.
Mountain roads are steep, advise to walk slowly.