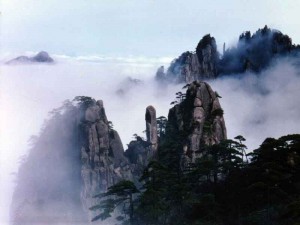 Mount Huangshan (Chinese: 黄山, English:Yellow Mountain) is located in southern Anhui Province. Known as "the loveliest mountain of China," Mount Huangshan was listed in the UNESCO World Heritage in 1990.
Its landscape features "Four Wonders" of odd-shaped pines , spectacular rocks, seas of cloud and hot springs.
Mount Huangshan boasts 72 peaks, more than 1,000 meters above sea level. Lotus Peak (Lian Hua Feng, 1,864 m), Bright Summit Peak (Guang Ming Ding, 1,840 m) and Celestial Capital (Tian Du Feng, 1,829 m) are the three tallest and most well-known ones.
Mount Huangshan is also host to notable light effects, such as the renowned sunrises and sunsets. And watching the sunrise on mountain top is considered a "mandatory" part of the Huangshan trip. Visitors should get up early so as not to miss the sunrise.
When visiting the mountain identifying the fanciful shapes of the grotesque rocks is a very interesting game. You will find various peaks and rocks which look like animals and household objects.
The best time to visit Huangshan is between April and October. During this time, the area is at its most green. Visitors can enjoy the beautiful mountain scenery.
Tourists can plan a 1 day Huangshan tour to see the highlights, or 2 days tour with overnight on mountain top, or 3 days tour with Hongcun village and Tunxi.
Tourist Info:
Entrance fee:  RMB 230 (Mar. 1-Nov.30);   RMB 150 (Dec.1-Feb.28 or 29 the next year)
Cable car: Yugu Cable Car RMB80/single way (Mar. 1-Nov.30),   RMB 65 / single way (Dec.1-Feb.28/29)  Most travelers take this cable car up and down mountain.
Opening Hours: 06:00 – 16:30 all year round.
Huangshan Map (click it to enlarge):