Mutianyu Great Wall Tours
Mutianyu Great Wall (慕田峪长城) is best section of the Great Wall to visit in Beijing. It is 73 kilometers (45 miles) from Beijing and 1.5 hours dive. Mutianyu is not that famous as Badaling but less crowded and has breath-taking scenery.
Mutianyu was first built in Northern Qi Dynasty (550-557), more than 1,400 years, and rebuilt in Ming Dynasty (1368-1644) It is used to guard the capital and imperial mausoleums.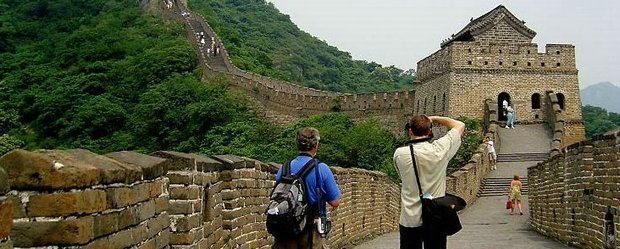 It is equipped with cable car and toboggan, easier for children and seniors to pay a visit. Advise to go up with the cable car and go down on a toboggan. The cable car gives you a unique view of the wall and avoid the 1,000 mountain steps. The 1,580 meters long toboggan offers a lot of fun.
There are 23 watchtowers along the 5,400 meters long wall. It usually takes 2 hours to visit the wall. The best visiting time is Spring and Autumn, when weather is pleasant, neither too cold nor too hot. Avoid May Day Holiday (May 1st to 3rd) and National Day Holiday (October 1st to 7th) when there are lots of domestic travelers.
Prepare comfortable shoes with good grip and take layers of clothes that can be taken on and off to adapt to the temperature.
Admission Fee: CNY45 for adults; CNY25 for Children (1.2-1.5M)
Ferry Car: RMB10/single way; RMB15/round way
Cable Car: CNY100 for a single trip; CNY120 for a round trip;
Toboggan: CNY80 for a single trip; CNY100 for a round trip
Opening Hours: 8:00-17:00
Check our Mutianyu Great Wall Tours below to start your Great Wall trip now:
Our daily guaranteed departure bus tour will take you to visit Mutianyu Great Wall (慕田峪长城) and Ming Tombs (明陵). Mutianyu Great Wall is well-known among travelers for its breathtakingly beautiful scenery; […]

No one goes to Beijing without visiting the Great Wall!  Among several famous Great Wall sections, Mutianyu Great Wall (Mù tián yù chángchéng 慕田峪长城) is the best choice. This section is relatively […]

If you've got a long layover at Beijing Capital International Airport. why not book a layover tour to visit the famous Great Wall instead of sitting in uncomfortable seat for […]