Mount Wutai Tours
Wutai Mountain (UNESCO heritage site) or known as Five Terraces Mountain, is located in Wutai County, Xinzhou City, Shanxi province. It is a famous summer resort and the place of Manjusri. With many temples here, Wutai Mountain ranks first in China's Four Famous Buddhist Mountains (Wutai Mountain, Jiuhua Mountain, Putuo Mountain, Emei Mountain). Wutai Mountain is the sole place where Yellow (Tibetan) Temple and Green (Chinese Buddhist) Temple coexist. You can not only see the Chinese Buddhist monks but also Tibetan lamas here. Taihuai town is the geographical center of montain resort, most temples are clustered here, it is a must place for tourists and most travelers stay in Taihuai Town. Starting from the town you can visit some important places such as Wuye Temple, Shuxiang Temple, Xiantong Temple, Tayuan Temple, Pusading Temple, Dai Luoding Temple and Nanshan Temple.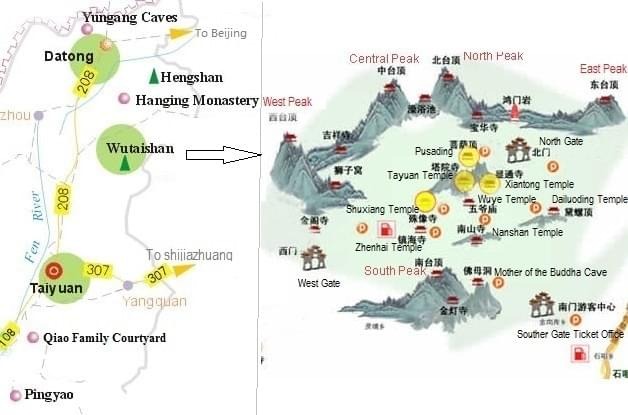 Summer (July and August) is the best time to visit Mount Wutai. There are many travellers especially during weekends. In winter most hotels are closed up and only some big hotels are open to guests. You can stay as long as you want if you do not get outside of the tourist area.
We offer various private tours to Wutai Mountain combined with other places such as Datong, Pingyao, Beijing and Taiyuan. Check out our tour itineraries below and send us an email if you are interested in any of the tours.
Mount Wutai, or Wutai Shan in Chinese, is a Buddhist sacred place in China. It is known as place of Manjushri. There are dozens of buddhist temples in this area. […]

Starting from Beijing, this 4-day tour will take you to explore the mystery of Chinese Buddhist culture. You will visit the outstanding Buddhist cave art Yungang Grottoes, world's forgotten wonder […]

Starting from Beijing, this 9 days north China tour covers both ancient relics and natural wonders in northern China. The highlights of the tour include Yuguang Grottoes, Hanging Temple, sacred […]