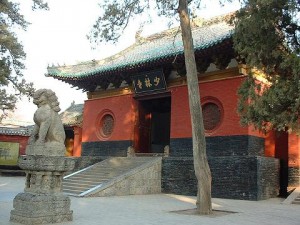 Shaolin Temple (Shaolin Si) is famous for Chinese Kung Fu or Martial Arts and the Zen Buddhism wide-spread in East Asia.
The Shaolin temple has many legends and mysteries surround it.  The origin of martial arts, the origin of kung fu surround the vague mysteries of the Shaolin Temple and the shaolin monks.
Shaolin Temple is probably the most famous temple in China, not only because of its long history and its role in Chinese Buddhism, but also because of its martial arts or Wushu Chan.
Shaolin Temple is situated in the beautiful Songshan Mountains, which is only eight miles of Dengfeng and about 50 miles southwest of Zhengzhou, the capital of Henan Province.
Shaolin Temple was established in 495 during the Northern Wei Dynasty (386-534). Batuo, an Indian monk, came to Luoyang, the ancient capital, for spreading Buddhism at that period. Emperor Xiaowen was a believer of Buddhism so he decided to build the temple in the Songshan Mountains to house Batuo, who translated many Buddhist works and had a few hundred followers there.
There are many noted relics at Shaolin. There are over 300 ancient stone inscriptions, some of them by famous calligraphers. The large mural of 500 arhats in the Qianfo Hall was from the Ming Dynasty. There are 232 pagodas from different dynasties, known as the forest of pagodas. The oldest one was from the Tang Dynasty. The pagodas are the tombs of the celebrated Shaolin monks. The Shaolin martial arts are an important part of the relics.
There are more than 60 kungfu schools in Dengfeng city around Shaolin Temple. Shaolin Xiao Long kungfu school and Shaolin Epo kungfu school are allowed by the government to enroll foreign student and they can provide you the JW202 paper for your Student Visa application. The price of Shaolin Xiao Long kungfu school is more reasonable and the training condition is better.
Interested in Chinese Kung fu?  Our Kung fu Panda Tour will take you to enjoy both Chinese Kung fu in Beijing and practice Kung fu in Shaolin Temple.
We also arrange tours to Shaolin Temple combined with Longmeng Grottoes, contact our trip advisors for more details.