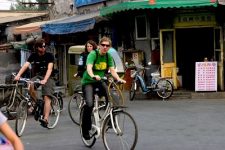 Cycling in Beijing is an ideal and green method of transportation for visitors. It is flexible and tourists can ride a bike to different tourist sites at leisure. You can stop at anywhere at any time, either for a taste of local snacks,or exploring Hutongs, or sightseeing modern buildings.
About 30 years ago, China is called "Bicycle Kingdom". But with the fast development of the company, many bikes soon replaced by different sizes of cars. But today bicycle starts to gain popularity in China again.
You have three ways to rent a bike in Beijing.
1. Rent Dockless "Sharing bikes"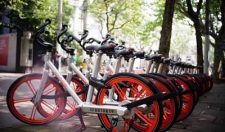 Since 2016, "Sharing bikes" start becoming popular across China, you can find many yellow or orange bikes on roadside. The famous brands include Ofo and Mobike. Passengers need to download its apps on smartphone to unlock these bikes. When finish cycling, put bikes at roadside and lock the bike. The fare is very cheap, only about CNY0.5-1 for every 30 minutes.
1. Learn how to use Ofo bike here. 
2. Learn how to use Mobike here.
2. Rent a Public Bike
You can also find public bicycles for rent in Beijing. There are many bicycle rental points in Beijing and the most convenient office is at Dongzhimen Subway Station (exit A of of Line 2), Temple of Heaven Subway Station of (exit A of Line 5, next to the temple's east gate) and Chaoyangmen Station (exit A of Line 2).
Travelers need to show valid passport and a Transportation Smart Card with a balance of no less than CNY30 and make a deposit CNY400 in cash.  The cost is CNY10 at most for a full day rental. You can find how to rent a public bicycle here.
 3.  Rent Bikes from Bicycle Shops
The bicycle rental company provides different bikes with other  equipment like hamlet. They can speak English and provide tips and suggest routes for you bicycle trip.
Bicycle Kingdom Inc.  – Address: 81 Beiheyan St ·   Telephone:  +86 10 6526 5857
Recommended Biking Routes
There are many cycling routes in Beijing, we recommend the city's most picturesque and cycle-friendly routes.
Route 1
If you fancy a ride and want to escape the traffic by cycling along the royal canal, you can start this journey behind the Beijing Exhibition Hall which is located just north of Xizhimen Wai Street  (西直门外大街). Cycle past the Beijing Zoo (北京动物园) and the Purple Bamboo Park (紫竹院公园) and continue along the canal. A bike ride all the way to the Summer Palace (颐和园) can take a few hours, so make sure you have a whole day for the ride.
Route 2
Another popular route is to cycle around old part of downtown Beijing.  you can cycle around Houhai (后海) and its surrounding Hutongs (胡同). Stay away from Qianhai  (前海) in the summer (especially on sunny weekends) unless you enjoy negotiating your bike through herds of people. The north end of the lake is less densely populated with pedestrians and therefore more navigable and enjoyable.
If you head up Gulou West Street (鼓楼西大街), you can access the lake via Ganlu and Ya'er Hutong. Hang a right when you get to the lake and cycle along its east side, where you will find plenty of interesting places to stop off, such as Song Qingling's Former Residence (宋庆龄故居).
Cycle around the top of the lake, taking a right turning off on its west bank. Explore the Hutongs here, continuing to head in a general southerly direction, where you will eventually find yourself at Di'anmen West Street (地安门西大街).
Head west until you reach a right turning into Xinjiekou South Street (新街口南大街), an interesting street full of shops selling musical instruments, jewelry and clothes. This road will lead you straight up to Deshengmen (德胜门) and the Second Ring Road (二环路), from which you can make your onward journey.
Route 3
This route starts from Jingshan Park and provides a wonderful route for you to explore the inner areas of the city.
Visitors can travel south along the Forbidden City (故宫). Follow the moat around the exterior of the City until you find yourself with Tiananmen Square (天安门) stretched out before you.
Cross Nanchizi Street (南池子大街) and head east a little down Chang'an Street (长安街), turning right onto Zhengyi Road (正义路), where a left turn a few hundred metres down will take you onto Dongjiaomin Xiang (东交民巷), Beijing's former legation area. Here you can see the site of the former British barracks and American embassy.
Further west you'll find yourself in the Qianmen (前门)area. Follow the winding Hutongs here back up to Chang'an Street (长安街) where you can cycle past the impenetrable Zhongnanhai (中南海).
Further west take a right turn onto Xidan North Street (西单北大街) and up to Xisi South Street (西四南大街). Turn right into XiAnmen Street (西安门大街), which leads onto Wenjin Street (文津街) a beautiful street that runs in between the north and south areas of Beihai Park (北海公园). This road will take you back to Jingshan Park (景山公园).
Bike Tours in Beijing
You can also join our guided Beijing Bike Tours, the tours are based on daily departure and you will have a special experience of your Beijing trip.
Our Beijing Biking Tours:
1. Half Day Imeperial Hutong Bike Tour
2. Old Beijing Biking and Walking Tour
3. Night Beijing Bike Tour