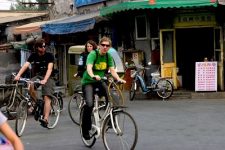 When visiting Beijing city, what fascinated people is not tall modern buildings and wide roads but the twisty and deep alleys, warm and beautiful courtyards. Beijing has thousands of hutongs in ancient times, so ancient capital culture is also known as "Hutong Culture" and "Courtyard Culture", the remark is not an exaggeration. Our bicycle tour will take you to visit the most typical and beautiful Hutong areas and take you to have a close look at the old city and offer you a special experience.
Tour Code: BB02
Departure: Daily
Duration: Approx.3 hours
Pick up time: Morning 10:00am /Afternoon 2:00PM Mar 1 to Oct 31
Morning 11:00am Nov 1 to Feb 28
Pick up point: Beiheyan Street
Language: English

| No. of Travellers | Price Per Person |
| --- | --- |
| 1 Adult | $64 |
| 2 Adults | $56 |
| 3+ Adults | $48 |
| Children | $32 |
Payment types: cash only
Details:
Hutong is the living place for ordinary people as well as an important stage in the historical and cultural evolution. It is like a folk customs museum, recording city's changes and the scenes of different historical eras. In Hutong you can find historical relics everywhere, each brick and tile has hundreds of years of history.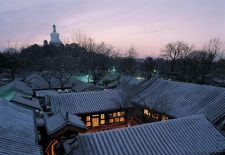 Travelers will gather at Beiheyan Street in the designated time and start biking with our English-speaking tour guide. A bike is the best way to explore old Beijing city's Hutong areas. Our professional tour guides know each alley name and will share unique historical stories hidden within. You'll find out the code to tell the resident's rank and wealth. You'll take a look at courtyards, old streets, beautiful lakes and ancient towers and so many interesting local things. Each guest can get an ideal of daily life changes of local Beijing people from the ancient to the present. Our guide will also take you to cycle around the Forbidden City or TianAnMen Square before the end of the tour.
Highlights:
• Imperial City Wall Park
• Old Hutongs
• Drum Tower
• Bell Tower
• Houhai Lakes
• Ancient Streets
• Ancient Residential Area
• Celebrities's Residence
• Local daily life
• Around Forbidden City
Service included:
1. Comfortable City Bike
2. Helmet
3. Bottled Water
4. English Speaking Guide
Reservation:
Tel: +86 178 1320 5162
E-mail: service@intochinatravel.com
Skype ID: intochinatravel