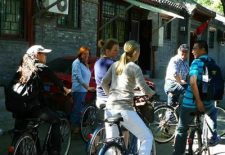 With recorded history of more than 3,000 years, Beijing is an ancient and charming city where you can explore ancient Hutongs, historical relics and life of Chinese people. Our one day bike tour will take you bike through ancient alleys to discover Beijing's landmarks, parks, temples and residential area. A bicycle tour is the best way for you to have a close look at the city and a special experience of life time.
Tour Code: BB11
Departure: Daily
Duration: Approx.8 hours
Starting point and time: Beheyan Street 9:00am
Finishing point and time: Beheyan Street around 5:00pm
Language: English

| No. of Travellers | Price Per Person |
| --- | --- |
| 1 Adult | $145 |
| 2 Adults | $120 |
| 3+ Adults | $105 |
| Children | $80 |
Payment types: cash only
Details: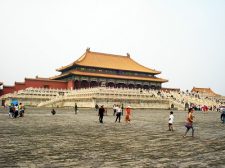 Travelers meet the guide at designated point. The biking tour starts from the Huangchenggen Ruins Park, you will ride along the moat to the Forbidden City (Palace Museum), Once arrival park your bike and walk to explore the Forbidden City. After that peddle your bicycle south to see grand Tiananmen Square. Then wheel your bike alongside the moat to Beihai Park. Continue your journey south to the Temple of Heaven, a place to offer sacrifices to the heaven. Then bike through the narrow Hutong lanes, where you will have a glimpse of life of old Beijing people. The alleys lead you to the Drum and Bell Towers (take photos outside). On the way, our guide will share some stories and interesting historical and local facts.
Note: The Forbidden City is not open on Monday; we will arrange other tourist spots such as Lama Temple instead.
Highlights
• Huangchenggen Ruins Park
• Forbidden City
• Tiananmen Square
• Temple of Heaven
• Ancient Hutongs
• Local Residential Area
• Local night life
• Lake Waterfront
• Houhai Bar Street
More options
(Below are option items, tickets on your own, we only visit these spots when asked and time allowed)
• Lama Temple
• Drum show in Drum Tower
• Snack Street
• Local Family Visiting
• Courtyard Visiting
• Folks Art
Service included
1. Comfortable City Bike
2. Helmet
3. Bottled Water
4. Chinese Lunch
5. English Speaking Guide
6. Entrance Fees
Reservation:
Tel: +86 178 1320 5162
E-mail: service@intochinatravel.com
Skype ID: intochinatravel