Qutang Gorge is about 500 km northeast down the Yangtze, from Chongqing City and about 200 km upriver from Yichang, in Central China.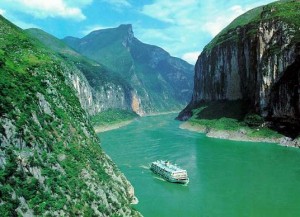 Qutang Gorge runs eight kilometers from Baidicheng in Fengjie County in the west to Daxizhen in Wushan County, Chongqng City. The shortest among the Three Gorges, it is the most spectacular. (the other two gorges in downstream order or from west to east, are Wu Gorge and Xiling Gorge)
As soon as the roaring Yangtze River rushes into the gorge, it meets head-on with the imposing Kuimen Gate. Rocky mountains rise perpendicularly like walls on both sides of the river squeezing the broad river into a narrow ribbon threading its way in the gorge. Here the width of the river is reduced to 100-200 meters and the narrowest places are no more than a few dozen meters while the principal peaks on the banks are as high as 1,000-1,500 meters. The turbulent waters flowing in the deep gorge along a continuous line of peaks make a most magnificent picture.
Although the Qutang Gorge is the furthest upstream of all the Three Gorges, the impact of the Three Gorges Dam on the Qutang Gorge has been especially large. Many of the most famous and historically significant sites are along the Qutang Gorge. On a hilltop on the north bank are the town of Baidicheng, boasting many rare historical relics. On the south bank are the Whitewashed Wall covered with carved inscriptions, the legendary Meng Liang's Ladder, the Upside Down Monk, Armour Cave and the sweet-tasting Phoenix-Drinking Fountain in a deep cave. Also on the south bank, not far downstream, is a very strange-looking peak standing by the river; it is called the Rhinoceros Watching the Moon because it looks like a rhinoceros.