As the longest gorge among the Three Gorges, Wu Gorge extends for 46 km from Daning River in Wushan County Chongqing to Guandukou in Badong County Hubei. Wu Gorge is known for its marvelous views of undulating mountains, grotesque peaks and deep serene valleys.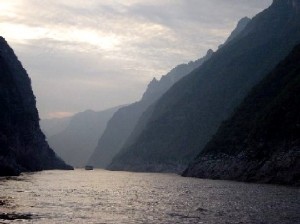 Looking down the Yangtze River, Wu Gorge sees 12 high peaks, which are described by legend as being 12 fairy spirits. The best known is Shennu Feng (Goddess) Peak, which is topped by a large rock that resembles a sculpture of a girl looking down upon the boats in the river. The rock is about ten meters high and six meters in girth, and stands atop a 1,020 meter on the north side of the Yangtze. It is said that this rock resembling the figure of a beautiful maiden is actually the embodiment of Yao Ji, the youngest daughter of the Heavenly Mother. Yao Ji became a protector of the people, guiding sailing boats through the gorge and easing the Yangtze's infamous floods. The Shennu Feng is a must-see tourist spot when you cruise on Yangtze River.
Because the Goddess Peak is the highest peak among the twelve peaks and is first to greet the sun and sees off the afterglow at sun set every day, it has another name – Wangxia Peak (Looking Sunglow Peak).
Other major attractions along the Wu Gorge include Shennong Stream, Three Little Gorges.