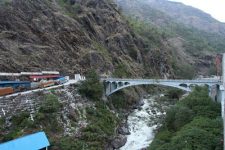 Many tourists to Tibet will choose to go to Nepal as their next destination; after all, Nepal is rich in exotic culture and Buddhist relics. In fact there are two ways to get Nepal Visa in Tibet, getting it in Lhasa and getting it at the border.
1. Applying Nepal Visa in Lhasa
It is very convenient to apply for Nepal visa in Lhasa, as the Nepal Consulate-General is located on No. 13 Norbulingka Road, adjacent to the Norbulingka Park. If it is not Friday or holiday of Nepal, usually you can get it within two days. If you submit materials in the morning, you can get Nepal visa the next afternoon.
The working hours of Nepal Consulate is 10:00 – 12:30 Monday to Friday, they would not accept your application in other time. The visa pick-up time is usually at 16:00.
Nepal visa application requirements include original passport (valid for six months or more), two 2-inch ID photos (on a white ground) and a completed visa application form.
The cost of Nepal Visa depends on your duration in Nepal: 175 Yuan for 15 days visa, 280 Yuan for one month visa and 700 Yuan for three months visa. You`d better complete your travel within the applied days, for it is more expensive to extend your visa in Nepal – $30 for 15 days and  $ 60 for 30 days ( in Kathmandu or Pokhara) .
In addition, if you keep the 2nd or even the 3rd passport, the visa officer will ask you to provide the original old passport, which is quite annoying.  And if so, bring your old passport with you and show it to the visa officer when asked for, which can guarantee you to get the visa smoothly.  Otherwise, your application would be probably suspended.
Below is the contact info for General Consulate of Nepal in Lhasa:
Address: No.13, Norbulingka Road, Lhasa
Phone: +86-891-6813965
2. Applying for Nepal Visa at Zhangmu border
Getting Nepal Visa at Zhangmu border is a more convenient way. And It is most tourists' choice. Zhangmu is a customs town and port of entry on the Nepal-China border, only 120 kilometers away from Kathmandu – capital of Nepal. Tourists could leave Tibet for Kathmandu through the Friendship Bridge between China and Nepal. And there you can apply for Nepal visa on the other side of the bridge within a few minutes.