Tibet: the Land of Snows, the roof of the world. For centuries this mysterious Buddhist kingdom, locked away in its mountain fastness of the Himalaya, has exercised a unique hold on the imagination of the West.
Tibet Autonomous Region is located in the southwest of China, with a land area of 1.22 million square kilometers and a population of 2.3 million, of which 95% are Tibetan. There are also 30 other minorities in Tibet, such as Han, Menba, Luoba, Hui, Mongol, and Naxi.
For travellers, Tibet is without doubt one of the most remarkable places to visit in China. It offers fabulous monastery sights, breathtaking high-altitude treks, stunning views of the world's highest mountains and one of the most likeable peoples you will ever meet. There's Gyantse, in the Nyang-chu Valley, and hiking in Yarlung Valley, widely considered the cradle of Tibetan civilization. Base yourself in Tsetang and marvel at the monkey cave in Gangpo Ri or walk the monastery kora (pilgrim path). Your trip will take you past glittering mountain turquoise lakes and over high passes draped with prayer flags. Find a quiet spot in a prayer hall full of chanting monks, hike past the ruins of remote hermitages or make an epic overland trip along some of the world's wildest roads. The scope for adventure is limitless.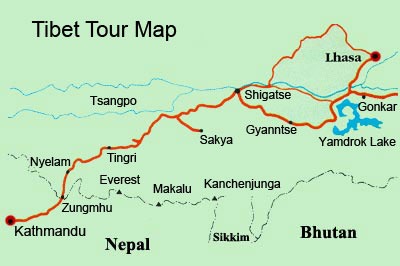 The people living in this vast land are mainly Tibetan, an ethnic group with bold and uninhibited characteristics. They take beef, mutton and dairy products as staple food, which protect them from severe cold. Tibetan people grow crops under harsh climatic conditions. The main grain crop grown here is the barley. The popular zanba and barley wine are made from it. Tibetan clothing are usually thick, warm and loose with wide waist and long sleeves and skirts. Hada, a ceremonial scarf, is highly regarded. They usually present Hada as a mark of esteem when holding celebration parties, welcoming visitors, visiting the elders or seeing someone off. Tibet is reputed as the 'Sea of Dances and Songs', where people enjoy these pursuits. The Tibetan engages in wrestling, horse racing and archery on Tibetan festivals. You have an opportunity to do home visits and learn more.
Tibet Tours
6 Day Beijing Lhasa Train Tour  train from Beijing to Lhasa and back to Beijing by flight
9 Day Grand Tibet & from Beijing by train  visit Lhasa and other Tibet areas
15 Day Beijing Tibet and Yangtze River Cruise Tour