Imagine immersing yourself in a sea of cloud, discovering lush hidden valleys or driving up winding roads that lead to a mountain paradise. These are just a few experiences you can enjoy when you visit Zhangjiajie National Forest Park. The city of Zhangjiajie boasts its own airport, with daily flights to China's major cities. This means that even if you are in China for a few days or you are mainly visiting for business, it is easy to escape for a few days to catch some of the most spectacular views in the country. Into China Travel has many short (as well as longer) trips that will enable you to experience the essence of Zhangjiajie. Booking a package tour will enable you to fit more into your days but also save you the trouble of renting a vehicle or of queueing up for public transport from area to area. You can also save on the expense and inconvenience of having to book and purchase tickets for some of the attractions, using the yuan you have brought with you on a shopping spree to purchase mementos of your trip. These are just a few must-see spots you may wish to enquire about:
1. The Wulingyuan Scenic Area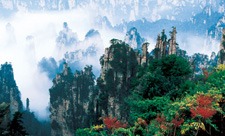 It is no wonder that this indescribably beautiful part of China, comprising no less than four large natural parks, was declared a UNESCO World Heritage Site. The Area boasts over 3,000 quartzite sandstone pillars, 40 caves, gorgeous natural bridges and plunging ravines, as well as streams and romantic waterfalls. The Area is perhaps best known for the Five Fingers Peak of Huangshizhai, which shows how natural structures can be infinitely more beautiful than the best designed skyscrapers…
2. Baofeng Lake Scenic Area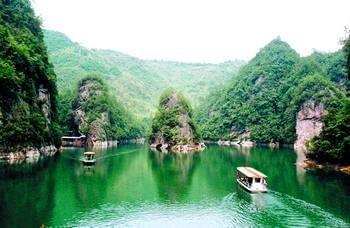 This fresh water lake, part of the Wulingyuan Scenic Area, is a must-see for lovers of nature. Declared a World Natural Heritage Site, it has often been described as a 'jade mirror.' It is surrounded by magnificent mountains, including Baofeng Peak. Marvel at the foliage and enjoy a fun boat ride across the serene waters.
3. Huanglong Cave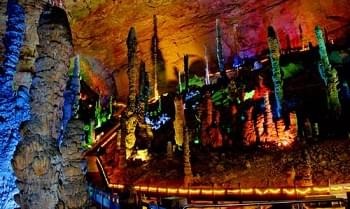 Also known as Yellow Dragon Cave, Huanglong Cave is over 100 metres tall and boasts stunning stalactites and stalagmites, as well as stone flowers and curtains. The most famous stalactites are called the Magic Sea-suppressing Needle and the Dragon King's Throne; the former is so tall, it reaches the roof of the cave!
4. Golden Whip Brook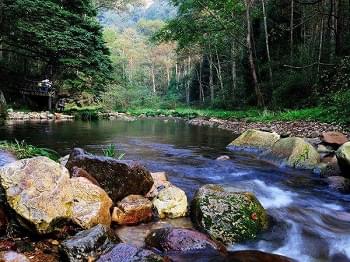 This would have to be one of China's most photographed brooks; just looking at its flowing waters instantly inspires a sensation of peace and calm. The canyon stretches out for seven kilometres, with a cool stream running along the banks and connecting a bevy of waterfalls and pools. The area is home to uniquely beautiful birds, making it a true bird watcher's paradise.
5. Huangshizhai/Huangshi Village
In case you were thinking of quaint houses and buildings when this site was mentioned, think again; Huangshizhai Village, also called Yellow Stone or Yellow Lion Village, is a massive mountain in the middle of the Zhangjiajie park. Standing tall at 1,080 metres, the area is the ideal place to enjoy one of the best views of the park. There are various viewing platforms from which to view the sandstone peak forests, so keen photographers should be able to capture the area's beauty from many different angles.
6. Tianzi Mountain
A series of pointed pillars reach into the sky, and from the top of this landmark, it is easy to feel like you have landed in Heaven. Billowing clouds, majestic rock formations, gentle streams and scenic waterfalls make this an absolute must-see site for anyone visiting Zhangjiajie.
7. The city of Zhiangjiajie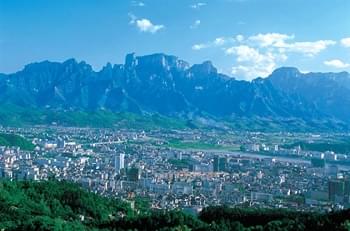 In case you feel like trying the local cuisine or shopping for items to bring friends and loved ones back home, check out the Zhianjiajie Market, where you will find everything from delicious seasonal vegetables to dried mushrooms and chilli, spices, different cuts of meats and traditional local sweets. If you are travelling with kids, take them to the toy section – they will find many excellently priced items to keep them entertained while you are relaxing. Do a bit of research beforehand to find out if any festivals are taking place in the city during your trip – exciting events include rock festivals, traditional celebrations and the famous New Year's Festival, featuring dancing, singing and bonfires.
Articley by Sally.