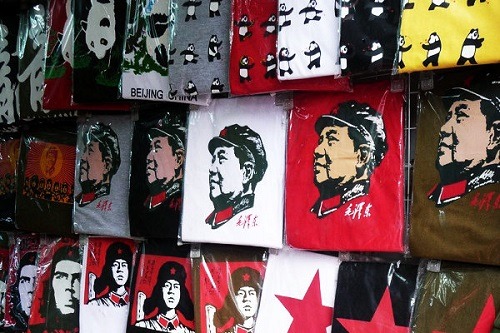 There are lots of items to buy when you travel to China. Silk, tea, handicrafts, jades, calligraphies, paintings, antiques, Chinese medicine are all good items to buy from China as souvenirs.
Bargaining is expected well-touristed areas, though not in shopping malls or high-end boutiques. Offer 25 to 50 percent of the opening price, and don't worry about going too low.
You should be very cautious to fake items. For instance, if the seller offers an incredibly lower price for a world-famous good, it is probably forged.
Below are some recommended places for shopping in major tourist cities.
Beijing
The Silk Market (秀水市场) is famous for beautiful silk products. it also featuers other products including handicrafts, antiques, calligraphy, carpets, table cloths, bed coverings, paintings, hand-knit dresses, toys, electronic gadgets, trinkets, and fine jewelry. Do not forget to make a bargain for it.
Panjiayuan flea market (潘家园) is chockablock with ceramics, furniture, beads, curios, and collectibles, many of them affordable, attractive—and fake.
Xi'an
The ancient street Shuyuanmen (书院门)is located by the ancient city wall. Numerous local arts and crafts including replicas of antiques, paintings and paper-cuts are sold.
Xi'an Huimin Street (回民街)is near the Square of Bell Drum Towers in Beilin District. You can find some unique souvenirs, relish some snacks in Hui style.
Shanghai
Yuyuan market (豫园市场)is a wonderful place to experience local life as well as shopping. There are over a hundred stores and shops in this area, selling items including Chinese medicine, walking sticks, silk umbrellas, bamboo and rattan furniture, goldfish, etc. Local people in Shanghai enjoy shopping here.
Hong Qiao New World Pearl Market (虹桥新世界珍珠市场) offers far more than just the pearls.You can find knock-off bags, scarves, Chinese junk and treasures and wares, ect. Remember to bargain hard with the vendors.
Guilin
Guilin International Tourism Commodity Wholesale City (桂林国际旅游商品批发城) is the largest wholesale markets for tourist souvenirs in Guilin. You can find local paintings, stones, root carving as well as Burmese jade ware, Fujian woodcarving, Qingtian stone carving, Yixing clay pot, Suzhou embroidery, and Hunan embroidery.