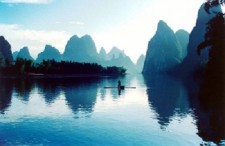 As a Chinese saying goes, Guilin's landscapes are the best among all under heaven. Guilin is rich in natural attractions. Its karst hills dot the town and are exclusive in China.
It is said that traveling through Guilin is like getting into a classic China painting. The best way to see Guilin's landscapes is on a cruise down the Li River. It passes by old villages, bamboo groves, fields, and the amazing landscapes.
In Longsheng, hike through the Zhuang & Yao minority villages to enjoy Longji Longji Rice Terraces. Also, do not forget to check out Sanjiang Dong villages for to explore and feel its unique lifestyle. Exploring beautiful little town Yangshuo on bicycle is also a fantstic thing, you will feel and taste the atmosphere of rural areas of south China and experience life away from the city.
The best time to travel to Guilin is between Apr and Oct. The best months for cruising the Li River are April, May, September and October.Avoid July if you can — it's the hottest month of the year.