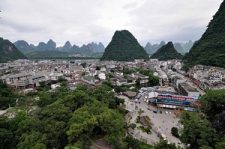 Yangshuo, about 60km south to Guilin,capital of Guangxi Province,  is a little town surrounded by many karst hills and wonderful landscapes,
Yangshuo features breath-taking natural scenery, mysterious old local habitation houses and various cultures. The most popular destinations in Yangshuo consist of Western Street, Moon Hill & Big Banyan, Li river and the sensational night show Impression Liu Sanjie.
Yangshuo is a very comfortable city. Apart from West Street during the Saturdays and Sundays, the whole area is much more comfortable than any of the big places in China suppliers. Climbing, hiking, driving, diving, you name it, there are various things you can do in Yangshuo. Also the food here is very good. you can get a great variety of dishes from all over the world in this small county.
In this small town,local people are really helpful and welcoming. Once you are here for a while, you will make several friends and then you can really find out many speical interesting things here. Things like what happens on their celebrations, the importance of their kids and so on.
Living in Yangshuo is very special because Yangshuo is a little paradise for foreigners and foreign residents add exotic flavors to its fascination.
May to Oct is the best time to visit Yangshuo when there's a lot of sunshine, less rain, greener hill and clearer water.