Well known for its gorgeous scenery, the lovely southern China's city Guilin provides travellers with a wide range of souvenirs. Zhuang Embroidery, Painted Fans , Sanhua Liquor  and so many local products can be found here.
1. Zhuang Embroidery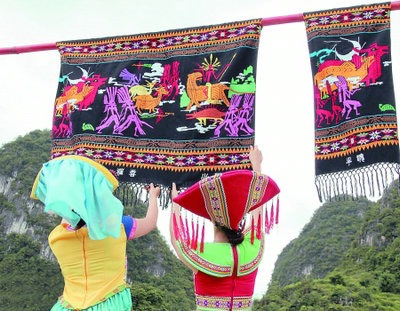 Zhuang Embroidery is hand-embroidered craft of Guangxi Zhuang Minority. It is made out of silk, most featuring different animals and special colors. It cost about half a year for a craftsman to finish one piece. A bagful of exquisitely embroidered works are sold for at around 160 US dollars.
2. Yangshuo Painted Fans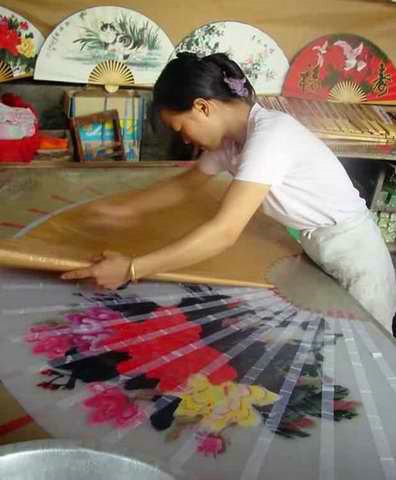 Painted fans are one of the most unique tourist souvenirs of Guilin area.  These fans are high quality handicrafts with fine materials and sophisticated design. The fans are made of either silk or paper with bamboo supports. The fan undergo a series of processes including painting, dyeing, mounting, pasting and painting with lacquer before they are ready for sale. Most of the fans from Yangshuo depict landscapes, flowers and birds, insects, fish, horses and beautiful Chinese girls, look very beautiful.
3. Zhuang Embroidery Ball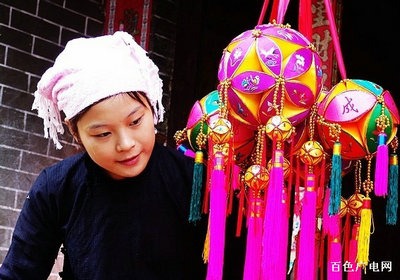 Zhuang Embroidery Ball is another famous artfully crafts of Zhuang people. The balls are made of silk cloth, and have twelve connected petals. Each petal represents a month, and has an image of flowers, plants, or birds on it. Traditionally, a Zhuang girl will throw an embroidery ball to a young man she admires. That lets him know he is welcome to pursue her.
4. Guilin Three Treasures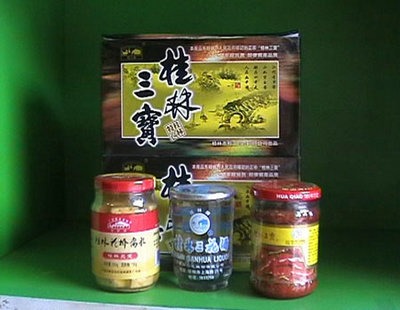 Sanhua Liquor, Chili Sauce and Fermented Bean Curd are honored as Three Treasures of Guilin.
Guilin Sanhua Liquor is a kind of liquor distilled from rice.
Guilin Chili Sauce is made of fresh chili, garlic, and fermented soybeans, and is used widely in cooking by local people.
Guilin Fermented Bean Curd is made of well-chosen fresh bean. Featuring its softness and unique taste, Guilin Fermented Bean Curd ranks the best of its kind in china.
5. Fruits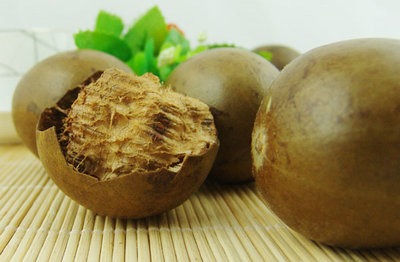 Guilin's specialties also include various fruits like Mangosteen, Shatian pomelo, Valencia Orange, Ginkgo, Lipu taro and so on. The Mangosteen from Guilin will throw out a nice scent after ripping the peel, and Mangosteen Tea is very good for your health.
6. Guilin Rice Noodles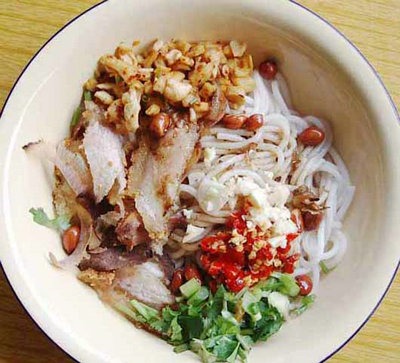 Guilin Rice Noodles is the most popular local snack in Guilin and famous throughout China. The noodles are made from oil and rice flour and are cooked in broth and served in a bowl of soup made from pork, beef, garlic, peanuts, peppers, and radishes. It is a must to enjoy the dish in local restaurants and besides you can also take some packaged noodles in local shops for your family and friends.