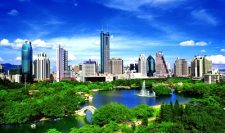 Shenzhen is a city that Deng Xiaoping established in 1979 to experiment with market reform and it is located in the southern tip of the Guangdong Province adjacent to Hong Kong. The city was a small fishing village only having 30,000 residents when created and today it has an estimated population of more than 15 million people. In terms of population density, Shenzhen has replaced Hong Kong as the densest city in China, with an average of 7,500 people per square feet.
Shenzhen is separated into 10 districts and 4 districts make up the city core: Futian, Luohu, Nanshan and Yantian. It is considered a leading city for IT research and the production of IT goods. Toys, t-shirts and sneaker manufacturing have made a large percentage of the industry in Shenzhen. The city is also the home of Tencent, the largest instant messaging service in all of China.
Migrant workers have contributed to the population density arriving from distant provinces and taking factory jobs in the city. Some estimates espouse claims that roughly 70% of Shenzhen's populations are people from different provinces.
Shenzhen has its own stock exchange, which was founded in 1991. The exchange has a market capitalization of 1 trillion dollars and over 1500 companies are listed on the exchange. Many of the stocks listed on the Shenzhen exchange are government controlled operations. It is the 9th largest stock market in all of Asia.
Shenzhen is among six cities in China (see: Beijing, Tianjin, Shanghai, Guangzhou, and Wuhan) that have a metro system. In 2004, the city opened five lines for transportation and around 2 million residents use the system per day.
The State Council of the People's Republic of China founded Shenzhen University in 1983. There are 75 undergraduate programs, 100 masters programs, and nine PHD programs. The college has two campuses: one on Houhai Bay and a newer campus that is located in University Town. The university has 28,000 undergraduate students, 5,500 master's degree candidates, and 1,000 international students.
Shenzhen's Baoan International Airport opened in 1991. Ferry routes to Hong Kong are available without going through immigration and customs checks. China Southern Airlines and Hainan Airlines are two of the