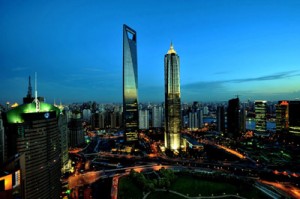 Shanghai is located at the mouth of the Yangtze River and is the largest city in terms of population in all of China. Known as the Paris of the East, it is a center of finance, international trade, research, and culture; it is considered one of China's most modern cities. The two words that make up the city's name each have unique meanings, Shang implying "on" and "hai" meaning the water.
Shanghai has famous buildings that line its city skyline: The Jin Mao Tower, Oriental Pearl Tower, Shanghai Tower and the Shanghai World Financial Center. The Oriental Pearl Tower is famous for its spheres and construction of the project began in 1990 and finished in 1994. The Bund is also a famous area of Shanghai that is located on the waterfront; it features buildings with Romanesque, Gothic and Baroque design.
Shanghai Port has the highest twenty foot equivalent throughput in the world with 29 million TEUs and 31.7 million TEUs in 2010 and 2011 respectively. Shanghai tops out Singapore, Shenzhen and Hong Kong as the top ports in the world. Along the Yangtze, major cities such as Chongqing and Wuhan create demand for many international goods which are shipped via Shanghai port.
Four of China's elite colleges are located in Shanghai, Fudan University, East China Normal University, Tongji University, and Shanghai Jiatong University. Fudan University is considered the top university in Shanghai and has been called the Stanford of China. The University has bachelor's degrees in 70 fields and two hundred and twenty nine master's degree programs. Fudan University has an enrollment of over 26,000 students.
Shanghai has two airports, Pudong International Airport and Hongqiao International Airport. Hongqiao airport has limited international destinations and primarily serves the domestic flight market. Pudong Airport is the major hub for China Eastern Airlines; it offers 2,280 movements. The next closest airline, China Southern Airlines, offers 755 movements. Pudong Airport sends 50% of its passengers to international destination.
Shanghai has produced some of the top political leaders in the country. Shanghai is one of China's four municipalities along with Beijing, Tianjin and Chongqing. Because of its size, the mayor of Shanghai holds the same status as provincial level governors throughout China.
In 2010, Shanghai hosted the World Expo and the city spent more than 4.2 billion US dollars in order to prepare for the event. Other monies had been allocated by the city in order to improve infrastructure for the event. The event brought more than 70 million visitors from all over the world but the vast majority of visitors came from the Mainland.