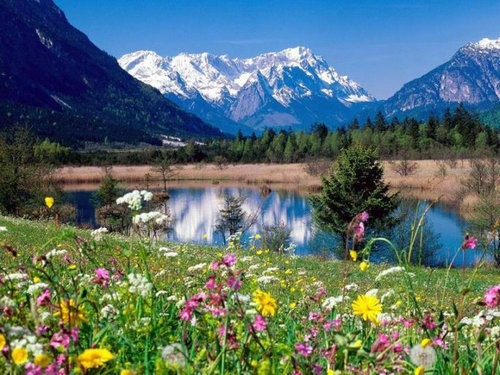 Yunnan, literally means "South of the Clouds," is a beautiful place that every traveler must visit. Yunnan has the beautiful place described as Shambhala in James Hilton`s book Lost Horizon, the place called as paradise in the eyes of John Locke and Meili Snow Mountain, a sacred place for Tibetans. Here flowering plants are in bloom in all four seasons and the view is delightful in all year round. Mountains, lakes, flowers, terraces, lakes, all these present us the most beautiful scenery in the world.
Here we have compiled a list of the main tourist attractions in Yunnan Province.
Kunming
Kunming, the capital of Yunnan Province, is known as "the City of Eternal Spring" for its pleasant climate and flowers blooming all year round. Whenever you are planning to go, the temperature there is always agreeable.
Main attractions: Stone Forest, Dongchuan Red Land, Dianchi Lake, Western Hills, Daguanlou Park, Guandu Ancient Town, Green Lake Park, Yuantong Mountain, etc.
Lijiang
This historic town boasts many tourist attractions. It is a place mainly inhabited by the Naxi people. The touching Naxi Ancient Music, impressive Jade Dragon Snow Mountain, beautiful Shuhe Town and the hiking paradise Tiger Leaping Gorge, all these offer you a lifetime journey.
Dali
Dali is the birthplace of Yunnan`s earliest cultures and is mainly inhabited by the Bai Minority people. It is famous for its old town, zillions of cafes and bars, and handicrafts and batik fabric.
Main attractions: Erhai Lake, Cangshan Mountain, Xizhou Village, Nuodeng Ancient Town,  Chicken Foot Mountain, Shaxi Ancient Town, Butterfly Spring, etc.
Xishuangbanna
Xishuangbanna has a reputation of "the Kingdom of Plants."  It is also the hometown of peacocks and elephants and an inhibition for Dai people. Here 、there are mysterious rainforests, many Buddhist temples, beautiful Dai Minority girls and ebullient folk festivals.
Main Attractions: Tropical Botanical Garden, Wild Elephant Valley, Mange Buddhist, Dai Ethnic Villages, etc.
Diqing (Shangri-La)
Here is place described as paradise in James Hilton`s book Lost Horizon, a place of worship, a hiking paradise and settlement for Tibetans. The sacred Meili Snow Mountain, beautiful flowers and alpine meadows will make you fell in love with this place.
Main Attractions: Meili Snow Mountain, Ganden Sumtseling Monastery, Yubeng Village, etc.
Honghe
The most famous attraction here is the terraces created by Hani people, Yuanyang Rice Terraces are one of China's famous terraces and a paradise for photographers.
Main attractions: Yuanyang Rice Terraces, A-lu Ancient Cave, Dawei Mountain, etc.
Yuxi
Yuxi is the hometown of famous musician Nie Er, and the famous Hongta Group is also located here.
Main attractions: Fuxian Lake, Yingyue Lake, Jinpingshan Mountain, Qilu Lake, Puguang Temple, Ailaoshan Mountain etc.
Baoshan
Baoshan's most famous attraction is Tengchong, which boasts lots of volcanoes, geothermal resources, long history and culture.
Main attractions: Tengchong, Heshun Town, Jinji Ancient Town, Jade Buddha Temple, etc.