Located about 300km south of Kunming,Yuanyang Terraces lies in Yuanyang County, southeastern Yunnan province.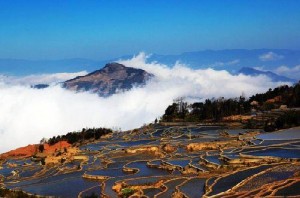 With a total area of 11,000 hectares, Yuanyang Terraces is regarded as the largest and most spectacular terrace in the world. It is a natural masterpiece, plowed by the bare hands of the Hani ethnic people 1,000 thousand years ago, and it is still in use today.
During winter days, the whole terrace is covered by a layer of mist, evoking the typical atmosphere of a traditional Chinese ink and wash painting. Catching a sunrise or sunset on the terrace at this time will make visitors marvel at the wonder of nature.
The terrace field is a nice place for photography and sightseeing. If you get a chance to Yuanyang Rice Terrace, the sunrise scenery of Duoyishu must be not to miss. Duoyishu scenic area is the most beautiful natural and cultural landscape of Yuanyang Rice Terraces. Including Duoyishu, Aichun and Dawazhe, this rice terraces are more than 1647.4 acres. Therefore, the sunrise makes this area a wonderful sightseeing.
Bada—the best place to get the sunset scenery of Yuanyang Rice Terraces and also is largest attraction in terms of acreage of Yuanyang Rice Terraces. The Bada terraces at sunset are truly amazing and the incessantly changing colors will make you feel that you are in a magical kingdom.
In Yuanyang Rice Terraces, one of the interesting things is to explore the Hani people's culture, experience their local life, visit their mushroom-like houses, and watching their folk dancing performance.
November to the next April is the best time to catch the terraces the most beautiful scenery.