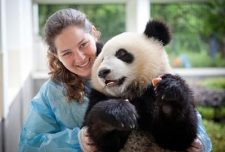 Our principal objective is to support Giant Panda protection project and offer an opportunity to experience panda caring for Giant Panda lovers. Anyone who is interested in panda and love panda is welcomed to join this activity. You will go to Dujiangyan Panda Park (都江堰熊猫乐园) to take care of and interact with giant pandas, learn about their daily life and food habits, make food and feed pandas… and you also have chance to hug panda here. A panda volunteering will be an amazing experience for you China trip.
Tour Code: CDC05
Departure: Every Day
Duration: 1 day
Language: English
Tour type: Private
---
Chengdu Panda Keeper Program
The price
| | |
| --- | --- |
| Traveling Party | Price/person |
| 1 person | USD270 |
| 2 -3 persons | USD225 |
| 4-5 persons | USD210 |
| 6-7 persons | USD195 |
| 8+  persons | USD190 |
---
It includes the following:
1. Panda Volunteer cost.
2. Health Certificate

3. Round Way shared transport between your Chengdu downtown hotel and Dujiangyan Panda Park
4. The Panda Volunteer program guide inside the Panda Park.
The price excludes:
1. Tips to guide and driver
2. Personal expenses
| | |
| --- | --- |
| Time Table | 2019 Dujiangyan Panda Volunteer Program |
| 8:50AM-09:00PM | Register and change the outfit, go to Panda Enclosure |
| 09:00PM-10:15AM | Clean the enclosure; clean up Panda dung into trash bucket; wash the panda house and mop the floor; prepare bamboos |
| 10:30AM-11:00AM | free activity |
| 11:00AM-12:0AM | Feed the pandas with "cake" and fruits at close range; learn about panda's food habits |
| 12:00AM-12:30AM |  Lunch Time:free Chinese style lunch offered by Panda base |
| 12:30AM-13:00PM | Free Time;You could visit around or have a rest at office, Visit the Red Panda |
| 13:00PM-14:00PM | Watch a documentary which shows you scientific facts about pandas.  Know how people protect them, and how we live together harmoniously with them |
| 14:20PM-14:50PM | Clean Panda house, Carry the Bamboo, Feed the panda |
| 14:50PM-15:00PM | Make panda cake and and enjoy the fun of being a chef for Panda |
| 15:00PM-15:10PM | Get your panda keeper certificate and end up! |
Notes
Dujiangyan Panda Base allows a limited number of people per day to join the volunteer program, We recommend booking at least one week in advance and pay in advance to guarantee it.
The panda hugging needs health certificate, IntoChinaTravel will prepare and issue the health certificate to you.
Giant panda holding is not available during the Chinese New Year (Usually from Late Jan to Mid Feb).
Your driver will pick you up at your hotel at downtown Chengdu at around 7:00am. Then drive to Dujiangyan Base of China Conservation and Research Center, It is 60 km and 1 hour drive. Drive back to your hotel in Chengdu at about 4:00pm.
Please send us your passport copies when the booking is confirmed.
---
DuJiangYan Panda Holding Program
Panda hugging official cost
RMB1800 OR USD277 / person   (Panda Holding Program has stopped at present, this service is not available now.)
Paid directly to Intochinatravel to secure your booking.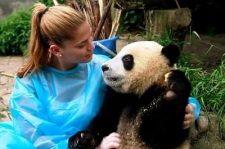 It includes the following:
1. Entrance ticket to Dujiangyan panda base.
2. Panda donation certificate and panda souvenirs.
3. English speaking staff in the Panda Base.
The price excludes:
1. Health Guarantee for panda Volunteer (50 USD p/p)
2. Charter Car Cost
---
Booking
Tel: +86 178 1320 5162
E-mail: service@intochinatravel.com
Skype ID: intochinatravel