If you're going to Beijing for business or leisure with your family but aren't sure where to go or what to do. You come to the right place. Here we list some things you can do in and around Beijing for family travelers.
Beijing is home to some of China's most famous historical sites, the Forbidden City and the Great Wall  are must-visit for all visitors. If you think history and culture to be "too boring" for the kids.  You can choose plenty of other activities to combine with your sightseeing to keep the children entertained such as :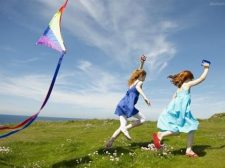 1.  Flying Kites in Chaoyang Park (朝阳公园)  Address: 1 Nongzhan Nanlu Chaoyang District
朝阳区 农展馆南路1号 Daily 6am-10pm (last entry at 9pm) Tel: 6506 5409 .
2. Riding Rickshaws through Hutong, Hutong are a type of narrow alleys located in Beijing, where you can find  the real culture of Beijing.
3. Climbing the Great Wall… Tobogganing down!
4.  Visit Beijing Aquarium (北京海洋馆), "The world's largest inland aquarium". Address:
137 Xiwai Dajie 西外大街137号 Opening Hours: 9am-5pm Phone: 6217-6655
5. Skiing in Beijing's ski resort.
6. Learn some scientific knowledge in China Science and Technology Museum (中国科技馆) Olympic Village 奥运村地区, Address: 5 Beichen Donglu (ten minutes east of the south gate of the Olympic Forest Park) Chaoyang District 朝阳区北辰东路5号 Opening Hours: Tue-Sun 9am-4.30pm, extended hours for special events (ticket selling 8.30am- 3.30pm) 5904 1188.
7. Beijing Amusement Park – (Address: 1 Zuoanmen Neidajie, 左安门内大街19号 Contact: 6714-6909). Constructed in 1984, this was the first large modern amusement park in Beijing. Surrounded by a scenic lake, this park is fun for the whole family. Adults and children can indulge themselves by rolling on the Super Train ride or by taking a ride in the Water Car. Sometimes circuses and stuntmen give fantastic shows in the park. Beijing's equivalent to Disneyland.
8. Happy Valley Amusement Park (北京欢乐谷) is the newest, biggest, and best theme park in Beijing. It is on par with a Disney or Universal park, with amazing Holy Crystal Castle dominating the park. Address: Wuji Beilu, Dongsihuan Lu Chaoyang District 朝阳区东四环路小武基北路; Opening hours: Daily 8.30am-10pm; Tel: 6738 9898 ext 0, 6205 0088.
9. Interested in Chinese Kung fu?  You may take you children to enjoy Chinese Kungfu Show in Red Theater.  It will be a special experience for parents and children.