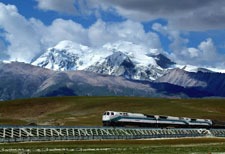 There are two transport ways between Beijing and Lhasa (capital of Tibet): by train or by flight. The distance on the map between these two cities is 2550 kilometers. Here are the concise facts of trains and flights, helping you choose the option that best suits you.
1. By Train
The railway between Beijing and Lhasa is 4064 kilometers long. The train T27 runs daily from Beijing to Lhasa, it departs Beijing West Railway Station at 21:30 and arrives in Lhasa at 18:38 the third day. The travel time is about 45 hours.
Hard sleeper is generally more popular among tourists to Tibet; of course soft sleeper is more comfortable but a little more expensive. The ticket price is 813 Yuan for hard sleeper and 1262 Yuan for soft sleeper.
2. By Flight
There are three daily flights from Beijing to Lhasa:
CZ3183  Capital Airport T2 07:20 – Gonggar Airport 14:00 (Stop over Chongqing)
CA4125  Capital Airport T3 07:40 – Gonggar Airport 12:20 (non-stop)
CA4112  Capital Airport T3 09:00 – Gonggar Airport 15:00 (Stop over Chengdu)
The full price is 2430 Yuan economic seat, the fuel and airport construction fee is 170 Yuan, There is almost no discount from July to September.