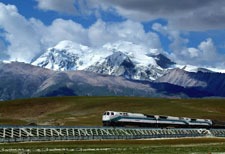 As all the travelers have been to Tibet believed, it is unforgettable that the experience of travel by train from Beijing to Lhasa is one of the most exciting highlights during their lifetime, as the train takes them heading all the way through the highest plateau in the world into the mysterious ancient kingdom with snow-caped mountains, highland meadows, calm lakes, sacred lamaseries on both sides all the way.
Train T27 is the only one that takes you from Beijing to Lhasa,Tibet every day. The distance between Beijing and Lhasa is 4,064 km, of which 1,110 are over the newly built Tibet section. The train leaves Beijing West Station at 21:30 and arrives in Lhasaat 20:58 on the third day after 47 hours and half running.
If you want to buy the tickets by yourself, you will need to go to Beijing Railway Station (window 27 & 28) or Beijing West Railway station. They sell a small number of train tickets 10 days prior to departure. Ticket sales start 6 am every day.
Since there are only 64 soft sleepers on each T27 train, obviously, compare with the increasing demand of the anxious tourists home and abroad, it is not easy to hunt for a ticket.
If you want to buy a sleeper, you may need to get there the night before and line up all night, and each person can buy maximum 3 tickets. Usually, all the tickets will be sold out in 5 or 10 minutes. If you do not mind the hard seats, then probably go there 5 am on the day would be enough.
As a foreigner, you need to have aTibetentry permit, issued by your travel agent to get on the train as the government stipulates.
Join any of our Beijing Tibet train package tours with reserved soft sleeper train ticket included!
Notes:
With booking our Beijing Tibet train package tour, your soft sleeper will be reserved.
The booking should be done 14 days ahead of the train departure or more.
By any chance the soft sleeper with 4 berths in one cabin is not available; we will ask you to take the hard sleeper with 6 berths in one cabin instead, with USD 75 as the balance and refund on one ticket. At the same time, we will upgrade your hotel room inLhasaduring your stay there as part of our guarantee of the Beijing Tibet train tickets.