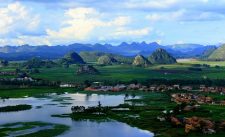 Our well-designed Yunnan photography tour covers the most beautiful and classic scenery of the Yunnan Plateau. You will shoot the beautiful Dongchuan Red Land, marvel at the Yuanyang Rice Terraces, the heavenly land Puzhehei and Bamei, as well as China's most beautiful highland lake – Fuxian Lake. This is an in-depth Yunnan photography tour which offers you a different travel experience!
Tour Code: YN15,
Departure: Every Saturday, Guaranteed Departure
Duration: 8 days
Language: English
Price: USD1099 per person (based on a party of two booking)
Day 1 Saturday Arrive Kunming and check in hotel
Check in at hotel in Kunming. Today is free day and you can visit tourist attractions on your own. Kungming is capital of Yunnan province; there are many famous tourist spots such as Yunnan Stone Forest, Dianchi Lake and Western Hills.
No lunch and dinner included today.
Day 2 Sunday Kunming – Dongchuang Red Land
7:30 leave hotel, 3 hours' drive to Dongchuan Red Land; you can take photos of Pot Bottom Lake, Screw Filed, and Music Valley,
Lunch and check in the hotel,
15:00 to take photos of Luoxia Gou (Sunset Valley)
17:00 Leave Luoxia Gou and on the way take photos of Thousand-year-old Ancient Dragon Tree. 17:30 at the highest point shoot the Grand Scenery of the Red Land.
18:00 shoot sunset of Wafang Ridge, after dinner you can shoot the night sky.
Note: please do not trample on the plants on the farmland.
Breakfast included, lunch and dinner on your own.
Day 3 Monday Dongchuan Red Land – Mile
6:00 leave hotel, 25 minutes' drive to Damakan, best time shoot sunrise when the sunlight shine at the Damankan Village.
8:00 head for Seven Color Slope to take photos. This is the highlight of the red earth scenery.
8:30 Jiuxiu Park.
9:30 drive back to hotel to have breakfast, then Luoxia Valley, Grand Scenery of the Red Land, Thousand Year Dragon Tree.
After lunch time, drive to Mile, take photos at Mile Ecological Park.
Breakfast included, lunch and dinner on your own.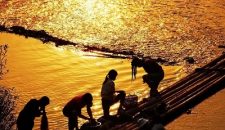 Day 4 Tuesday Mile – Shiwaitaoyuan (Heavenly Place) – Bamei Village
After breakfast, drive to Shiwaitaoyuan (Heavenly Place) and take photos, travel through a small water cave, you will see a wonderland in front of you, with mountains surrounded.
Visit Bamei Village, walk along the stream up you will find the village, whole day take photos, various trees, farmland, farmer's house, and small lanes.
Note: there are a lot of small sceneries and you can shoot your favorite stuff.
Breakfast included, lunch and dinner on your own.
Day 5 Wednesday Bamei – Puzhehei
Morning at Bamei, after breakfast drive to Puzhehei,
You will see various carst formations, lakes, caves and waterfalls, ancient trees. Lake groups, grassland, underground rivers and so on.
Then visit beautiful Swan Lake, you can shoot Carst mountains, lakes, various birds.
Take photos of sunset at Puzhehei.
Breakfast included, lunch and dinner on your own.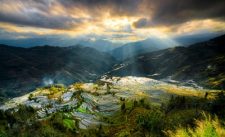 Day 6 Thursday Puzhehei – Yuanyang Rice Terraces
Shoot sunrise at Puzhehei, after breakfast drive to Yuanyang and visit Tigger Mouth Terraces, which is farming field of Hani Minority of Honghe area, take photos of autumn sunset of Yuanyang Rice Terraces, check in the hotel. Finish at 19:00 and check in hotel and have dinner.
Overnight Breakfast included, lunch and dinner on your own.
Day 7  Friday Yuanyang – Fuxian Lake
5:00am gather together and head to Duoyishu Terraces to shoot sunrise.
Then enjoy Bada Morning Scene, on the way shoot Malizhai Tea Factory Terraces, Quanfu Village Terraces, Qingkou Terraces.
Drive to Fuxian Lake, check in at hotel by the lake.
You may walk around the lake and enjoy some time in the bar on your own.
The left words are introduction of Fuxian Lake.
Breakfast included, lunch and dinner on your own.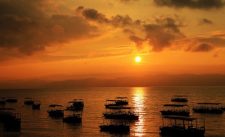 Day 8 Saturday Fuxian Lake – Kunming
Shoot the sunrise at Fuxian Lake. After breakfast, climb Bijia Mountain and see the beautiful view.
11:30 end shooting
After lunch drive back to Kunming.
16:00 arrive in Kunming city. End of the Yunnan trip.
You can take bus your own to airport or railway station.
Breakfast included, lunch and dinner excluded.
Inclusions
1. Air-conditioned van with driver
2. Entrance tickets mentioned above.
3. 3 star hotel or local guest house on twin-share basis.
4. 7 breakfast
5. English speaking tour guide
6. 2 bottles of water per day
Exclusions
1. Transport in and out of Kunming
2. Lunch and dinner
3. Personal expenses
4. Single room supplement.
Notes
1. The best shooting season of Dongchuan Red Land is from September to November. You will see white canola flower, red soil land, lined with blue sky and white clouds.
2. In autumn travelers can enjoy golden rice extending from the foot to the top of the highest mountain, which looks like a golden sea and present you a luxury golden eye feast!
3, September to November is the best time to shoot autumn scenery at Puzhehei. Standing at the highest point you will shoot panoramic views of golden rice field scattered among carst peaks!
4. Bamei is a Xanadu in China, the area is surrounded by hills, and you will see amazing, quiet and beautiful peaks.
5. Fuxian is the pearl of Yunnan Plateau. With pure and clear water, Fuxian Lake is known as the "second Lugu Lake in Yunnan Province". Recent years it begins to be known by foreign tourists.
6. This is a non-shopping and most classic Yunnan photography tour and the tour leader would not recommend optional items. Tour leader will take you to the best shooting point at the shooting time for best photography experience.
7. In order to have better shooting effect, the tour leader will adjust the visiting order according to according to shooting conditions such as weather, light, traffic and other factors, but tourist points will be covered.
8. The temperature will vary a lot for different areas. Morning and evening will be lower in temperature especially on the Red Land, please take warmer clothes such as a warmer coat (raincoat is better) and umbrella. Day time will be hot, short-sleeve shirt and thin coast is also needed. Better to prepare flashlight and alpenstock for evening early morning and evening walk.
9. Prepare some necessary medicine in case of cold, stomach disease and high blood pressure.
10. The main travelers in the group are Chinese and we will arrange English speaking guide for you.
11. On the day to Meili, you will need to take boat, carriage and walk on foot, you need to leave your big suitcase in van and take necessary luggage in a small bag. Prepare and carry a small backpack before join the tour.
Booking
Tel: +86 178 1320 5162
E-mail: service@intochinatravel.com
Skype ID: intochinatravel