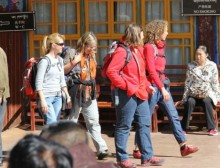 Tibetan Plateau has an elevation of above 3000 meters, for people living at low- altitude areas traveling there is always a daunting thing. In short, those who have ideas of traveling to Tibet always care about information like food, clothing, lodging, and other things. Here I give you some tips on what to wear when traveling in Tibet.
What to wear mostly depends on when you travel to Tibet. You should have a general understanding of Tibet's temperature. Tibet's annual range of temperature can be divided into two periods: From April to early October temperatures are basically between 12 ℃ -23 ℃, this is the best time to travel to Tibet; From late October to the next March temperatures range from -12℃to -10℃, it is Tibet`s low tourist season, some tourist attractions are not available for snow, however the traveling cost will be much lower.
The sunlight in Tibet is intense while the thin air can neither radiate nor absorb heat, resulting in temperature extremes during both day and night. From May to October, you may wear summer clothes and sun protection at noon, and also bring a sweater or jacket for morning and evening.
Coats:  jackets, jeans, etc. and other outdoor thick sports or casual clothing are fine.
Undershirts: T -shirts, shirts are all right, pure cotton fabric will be more comfortable, and you need to prepare a set of spare clothing.
Warm clothing: If visiting Namtso, Everest Mount, Ali and other areas you need to prepare sweater and down coat. Even in the warmest July and August, temperatures there can be as low as minus.  If you do not travel to high altitude areas there are needless.
Shoes: The best choice is the hard-sole high hiking shoes which can keep out sand. When walk on the road, the hard sole can also protect your feet better and it is not easy to fall off in the mud.