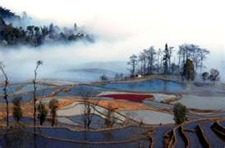 Yunnan with its complicated terrain has a diverse climate, embracing temperate, tropical and rigid zones in one province. Yunnan's climate is characterized by small seasonal change in temperature, great difference in daytime temperature and regional contrast between dry and wet seasons. The regional differences in climate change are very clear and vertical. So you need to prepare the stuffs you need with great care. Below are some tips on what to pack for a trip to Yunnan Province:
1. Yunnan has a large temperature difference between morning and evening. So you need to bring a coat or some thicker clothing whenever you travel to Yunnan.
2. Yunnan is located in the Yunnan-Guizhou Plateau, so solar radiation is quite strong. The skin care products such as sun block and sunglasses are quite necessary.
3. Yunnan is China's most bio-diverse region; rainy seasons vary in different areas, so rain gear is essential to travelers.
4. There are many narrow and rugged mountain paths in Yunnan, so a light pair of boots is you really need.
5. The weather in Yunnan is usually hot and humid, so some breathable clothing will cool you down.
6. Do not forget to take pills, bandages, soda water, mosquito repellent and the like in case of necessity.
Hotel facilities here are relatively backward and you may need to take some toilet articles. In addition, you will find numerous specialties here such as jade, tea and coffee, so you'd better take more money with you.