Huangshan Mountain is an ideal place for your winter tour. And now Huangshan Mountain has entered its winter travel season, as the old saying goes: "Four seasons are all nice at Yellow Mountain (Mount Huangshan), but the scene in winter is more attractive." Well, what`s the best things to discover in winter?
Below are four superb grand views in winter's Huangshan Mountain, hoping to be of some help.
1. The winter snow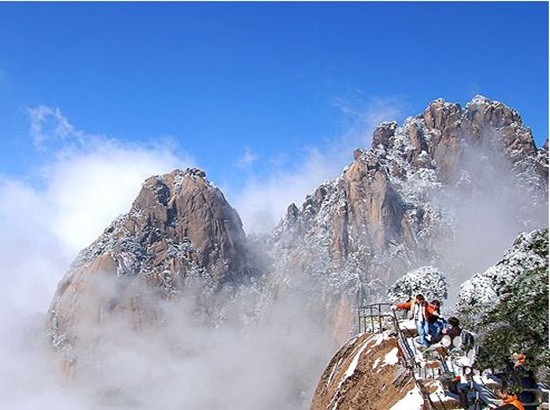 Huangshan`s winter snow is renowned as the "Fifth Wonder of Huangshan Mountain". In winter, the white snow covers all peaks and valleys, putting on a costume the mountain as a silver wonderland. Huangshan Mountain's winter scenery begins from the end of October to the end of March the next year. Dec, Jan and Feb are the best traveling months.
2. Sea of clouds
Sea of clouds is also fantastic view in winter on Huangshan Mountain. The snow-covered mountains are surrounded by clouds, so that you can hardly distinguish the clouds and snows. This is really another spectacular view. The best months for enjoying the cloud sea are from Nov to Apr.
3. Sunrises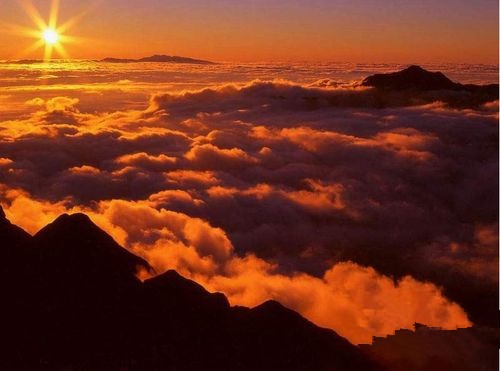 In early mornings in winter, the newborn sun spreads its soft lights onto the surface of the cloud sea and then rests gently on the shoulders of Huangshan Mountain, forming a golden hue over the snow-covered valley. Huangshan Mountain presents a wonderful picture.
4. Hot springs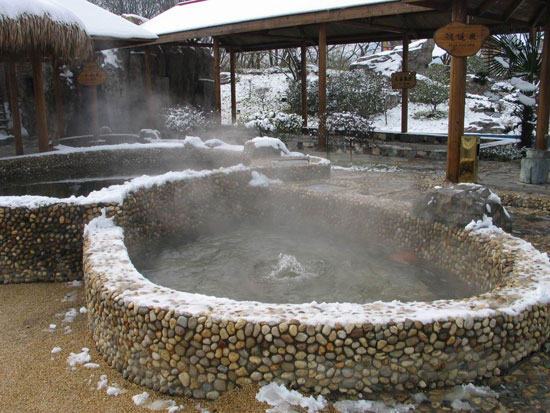 After going up and standing on top of Huangshan Mountain, it's time to enjoy a hot spring spa. The temperature of the hot spring is comfortably 42 degree. The spring water has high medical value in the treatment of the skin, joint, and nerve troubles.
Travel info:
Off-season: Dec 1 to Feb 28 next year
Ticket: 150 RMB/person
Cable car: 65 RMB/person