If the thought of China mainly conjures up dynamic city skylines and buildings that disappear into the clouds, you should, perhaps, make an effort to acquaint yourself with this country's verdant landscapes. China is home to many natural wonders, since its territory is vast and diverse and includes a host of nature reserves. Huangshan is one such natural haven; comprising a vast mountain range and ensconced in the south of the province of Anhui, it has a surprisingly long summer and wonderful weather, making it ideal to visit at any time of the year. If you are planning on a vacation and you find that daily stress and tension is making you crave for time in the great outdoors, these are just a few green spots you shouldn't miss out on when you visit Huangshan: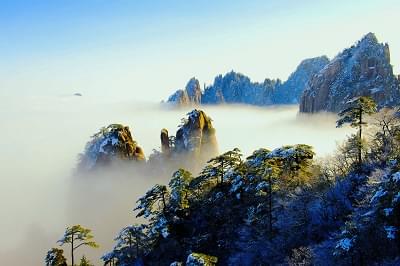 Huangshan
This dreamlike, 1.862-metre mountain range, also known as the Yellow Mountains, is immersed in romantic fog and dotted with artistically shaped trees, imposing rock formations, flowing lakes, hidden caves, oddly shaped boulders, and soothing hot springs. The natural paradise is often touted 'the loveliest mountain in China,' since it seems like it is suspended in the clouds. Huangshan, declared a World Heritage site, has played an important role in art and literature from as far back as the 8th century. It has long been a revered getaway for poets, painters and thinkers who derived inspiration from its majestic beauty. The mountain is also famed for its outstanding variety of flora and is home to over 300 animal species. Around 2.74 million visitors head for this area every year, to breathe in the fragrant air afforded by the vertiginous pine trees, or to get their hearts racing as they walk up the majestic peaks.
There are many hiking routes to enjoy (along the 72 rock cliffs), though you might prefer to go cycling if this is your favorite sport. In addition to heading for the peaks themselves, enjoy scenic rides along the ancient villages that surround the mountains, including Hongchun and Xidi. You can rent a bike unless you wish to take your own – if you are worried about damage to your bike or about getting lost in unfamiliar tracks, take it easy and bike along the 20km track used by bikers in the famous Huangshan Mountain Bike Festival. The ride comprises lush hilly slopes, exotic bamboo forests and scenic villages, enabling you to enjoy the beauty of Huangshan while you enjoy your favorite sport.
Tachuan
After visiting the Yellow Mountains, head for the secluded village of Tachuan, surrounded by lush countryside. If you can, plan your trip for the autumn season; the scenery at this time of the year is simply amazing, comprising indescribably color combinations made up of varying hues of red, golden, green, yellow and blue. This area is truly a haven for impressionist artists, since there are so many spots which are reminiscent of a Monet painting.
The Xin An River
This tranquil body of water is located at the foot of the Yellow Mountains. The ancient villages that flank the river make it quaint and charming, and meritorious of a walk spanning at least a few kilometres. The most popular hiking trail extends from Nanyuankou to Kengkou, spanning around 10 kilometres. Try to visit the river in the spring time, to enjoy the beauty and color of the flowers in bloom. Make sure you stop at Yuelingwu, located above a stunning stream and surrounded by lush greenery. If bonsai is your thing, make your way to Maihuayu, and take home your very own plant to remember Huangshan by in years to come.
In addition to the above, 'Big Three' spots, you might also want to visit the Huangshan Botanical Garden (to view some of the area's most characteristic native species), the impressive Buxian Bridge, the lofty peak of Lianhua, or the Celestial Capital Peak. Of course, there is so much more to see in and do in Huangshan, apart from enjoying the beautiful natural scenery. Heal your aches and pains at the Huangshan Hot Spring, shop for mementos or enjoy traditional dishes in the old street of Tunxi, or marvel at the architectural style of the buildings in Chengkan village.
This is an article by Sally Grace