Tibet is a mysterious place. Its unique geographic feature, its original scenery and local customs make it a holy place for both religious disciples and tourists. It should be a life-time destination for all travelers. While before going to Tibet, people can learn something about Tibet from movies. Below are five movies about Tibet in which you will find beautiful sceneries of this sacred land.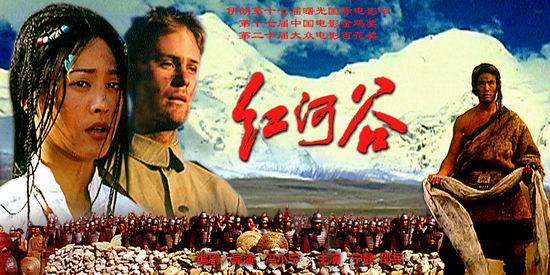 1. Red River Valley (1997)电影《红河谷》
Red River Valley is a 1997 film directed by Feng Xiaoning about the British incursion into Tibet, starring Paul Kersey and Ning Jing. The movie was very popular in mainland China. The shooting locations are Yamzho Lake and Gyangtse, now it has been developed as one day tour itinerary called "Red River Valley Tour."
2、Kong Fansen (1996)《孔繁森》
Kong Fansen is an outstanding Chinese official who made major contributions to the reconstruction and development of Tibet and formed close ties with the Tibetan people. The film showed Kong Fansen's dream and belief of being close to Tibetan people, loving them and working for them. The film`s shooting location is mainly in Ngari Prefecture, which is a remote area in Tibet. Today it has become a paradise for self-driving traveler and explorer.
3. Song of Tibet  (2000)《益西卓玛》
Song of Tibet is a 2000 Chinese film directed by Xie Fei. The film features a young woman named Dawa, who leaves the metropolis of Beijing behind to see her grandfather in his dying hour. The movie shows us many scenes of Lhasa and Lhoka (Shannan) Prefecture, but what impresses most is Zhol Village, also known as "Snow City", which is located on the lower boundary of the Potala Palace entrance.
4. The Knot (2006)《云水谣》
The Knot is a 2006 Chinese film directed by Yin Li. Starring mainland actors Chen Kun, Li Bingbing, and Taiwan actress Vivian Hsu, The Knot tells the story of a Taiwan leftist's love life between the later 1940s and early 1960s. The shooting location is in Yangbajain, a town approximately 87 kilometers north-west of Lhasa. Now Yangbajain has become a popular tourist spot.
5. Ganglamedo (2006)《冈拉梅朵》
Ganglamedo is a 2006 musical movie from Tibet directed by Dai Wei. The movie is about one of the most popular Tibetan folk songs, Ganglamedo (Snow lotus), about love of two girls and two men. The main scene of the movie is the winter time Lake Namtso.