Do you like to enjoy sun and sand in China, do you like beautiful beachs by the sea? here has listed the 10 of the most famous coastal cities in China, each of them enjoys pleasant natural environment, superb sandy beach resource and other tourist attractions, making a good destinations for summer travel.
Sanya
Sanya is noted for its mountains and hot springs, rich with multi-ethnic culture. Sanya has blue skies, white sandy beaches, azure sea, and some of the most beautiful scenery offered in the world. From sunbathing on the beach to climbing a mountain, be sure to take in a custom tour while you are here. It is the best way to take home some of those life memories.
Qingdao
Qingdao is a famous sea port city of Shandong peninsula, Qingdao is not only famous for its beer and old concession villas and streets but also for its many beaches that line this picturesque coastal city.   Qingdao enjoys superb beach resource. With gentle slope and mild waves, the No.1 Bathing Beach is a best choice to spend the summer time. Visitors can sunbathe here and swim near the coast, relaxing by playing volleyball or running on the sand and even dining on the beach. Besides, Shilaoren Beach and Golden Beach are also nice choices to spend the time.
Qinhuangdao
Situated in the northeast of Hebei Province and bordered by Bohai Sea to the south, Qinhuang Island is an important port for foreign trade in north China. Gold Coast, is located in Hebei province Changli County southeast of Bohai coast,52.1 km long coastline, with fine sand beach, soft, clear water, tidal flat, is bathing in the sea, sun, sand, forest bath, air bath place. Other famous beaches are Nandaihe Beach and Beidaihe Beach, both are well-known summer vacation scenic spots.
Zhuhai
Zhuhai is not only known for being a very pleasant coastal town on the southern edge of Guangdong Province, but also for having a selection of rather wonderful beaches. Not only that but there's a smattering of islands just off the coast with even better beaches, relatively untainted by the dirty sandals of tourists. Here we bring you four of the best. Golden Beach is one of Zhuhai premier beaches, and is so called because of its beautiful golden sands, which are a unique feature of this area. Hebao Island (meaning Purse Island in Chinese, presumably because of the shape, not because it's pickpocket heaven) is plunked between the Huangmao Sea and the Pacific Ocean, with an area of about 13 km² and a coastal circumference of roughly 28 km, surrounded by crystal clear waters.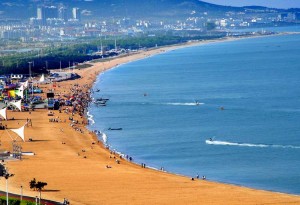 Rizhao
Rizhao Shandong province, China is located on the coast of the Yellow Sea, facing Korea and Japan in the east. Rizhao is reputed to "blue sky, jade-green sea and golden beach". it boasts the loungest fine sandy beach along the coast of China. Stretching as long as over 60 kilometers, the golden sandy beach enjoys the good reputation of No.1 Golden Beach in China. It has many famous scenic spots in Rizhao, such as Rizhao Seaside National Forest Park, Olympic Water Sports Park, Wulian Mountain Scenic Area, Fulai Mountain Scenic Area,etc.
Xiamen
Facing East China Sea by the southwest, bordering Taiwan Strait, Xiamen is a superb strait harbor located on the south part of Fujian Province with abundant marine resource. "A City on the Sea" is the portrait of this city. Surrounded by sea waters, with broad sandy beaches, natural and cultural landscape, Xiamen is one of the most popular seaside destinations of China.
Beihai
Beihai is ranked as one of the five most beautiful holiday resorts and is famous for its vast sea, long beach, islands, lakes, forests and hills. Beihai Silver Beach lies in the south of Beihai City, 10 kilometers (about 6 miles) away from city center. The beach stretches 24 kilometers. It is reputed to be the best beach in China for its advantages of even length, fine and white sand, clean and warm water and gentle waves, as well as being safe and free from sharks in swimming area.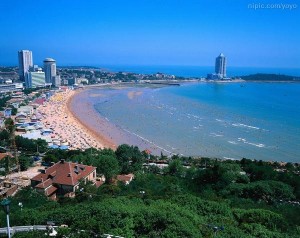 Dalian
Dalian is renowned for its natural attractions. One of the popular tourist attractions of Dalian is its beaches. The city boasts of numerous beaches, all of which are famous for their breathtaking natural beauty and thrilling water sports and activities. Fujiazhuang Beach, Dalian is perhaps the most popular beach destination of Dalian. Fujiazhuang Beach is renowned for its spectacular 550-meter-long stretch of golden sands and the turquoise sea and situated near the beach are many reefs, islands and forests, which make Fujiazhuang Beach even more attractive.
Haikou
Haikou, the capital city of Hainan Province, is home to elegant seascape and historical sites as well as dozens of newly-developed tourist regions and attractions. Haikou City has 4 main beach areas:Holiday Beach, Xixiu Beach, Baishamen Beach and Guilinyang Beach.
Ningbo
Ningbo (Wade-Giles: Ning-po; literally "Tranquil Waves") is a coastal city in the Zhejiang province of China. It lies in the south of the populous Yangtze River delta and faces the East China Sea to the east. Of a typical subtropical monsoon climate, Ningbo features mild temperature with moderate humidity and distinctive seasons, and it is an ideal resort to enjoy both natural and cultural endowment. A tranquil coastal city, Ningbo's 500-km coastline forms a scenic seascape. The Sun and the Moon Lakes, dug in the seventh century, are a particularly beautiful sight. The people of Ningbo have throughout their history had a deep affinity for the ocean.