The history of the Chinese New Year has been long forgotten, but that doesn't diminish the excitement and anticipation felt by Chinese people for this amazing festival. Chinese New Year compares to Christmas in importance, and popularity. The fifteen day festival begins on the first day of the lunar year and ends with the Lantern Festival.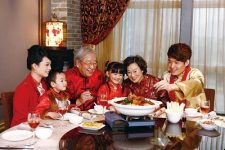 The entire country is decorated for the festival and every home is sports red couplets on either side of the front door and either Door Gods, or the character Fu on the door itself. Windows sport new papercuts and New Year's prints can be found inside every home. Red lanterns can be found everywhere and people are busy for weeks in advance preparing for the New Year festivities.
The actual origins of the Chinese New Year have been lost in the passage of time, but many legends about it exist. Most surround around a monster named Nian who terrorized the country until subdued. These legends are an important part of the holiday and each area of China has its own unique versions. Many of these legends discuss the origins of why Chinese people clean and decorate their houses, wear new clothing and stay up late on New Year's Eve to light fireworks.
China's New Year is filled with ancient traditions and superstitions, although many of them are no longer believed, they are still an important part of the Chinese New Year, and a link to the past. Chinese people love the Chinese New Year and every family goes all out for it. The history and legends of the Chinese New Year is an important part of it.