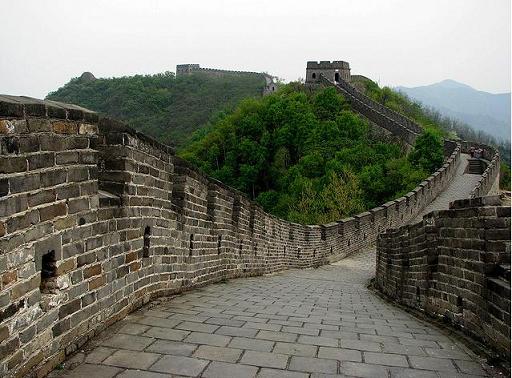 Mutianyu Great Wall

is 73 km from Beijing with approximately 60-90 minutes drive from city center.

The Mutianyu Great Wall is less crowded as the nearby Badaling or Juyongguan sections of the Wall.
Temperatures can reach 40 Celsius in the summer and often dip below zero in the winter, with harsh winds blowing across the region.
Mutianyu stretches for about 2.5 kilometer and allows you to explore 22 watchtowers and the valley on both sides of the Wall with 2 hours time.
The Mutianyu Great Wall is open 365 days a year. From April to October from 07:00 – 18:00. From November to March 07:30 to 17:30.
The entrance ticket is RMB45, for children 12 & under is RMB 25
Cable car operate from 08:00 until close, One way cable car adult ticket is RMB100, for children 12 & under is RMB 50; round way RMB120 Children RMB60. When going down the mountain, you can also choose Toboggan. Going down with toboggan is RMB100, children RMB60.
A typical 4 seats car from Beijing is about 800 RMB for the day use. You can book it with a car company, hotel or travel agency, or ask taxis.
Take bus 867 from Dongzhimen Station. The bus times are 07:00 and 08:30 from Dongzhimen , and return 14:00 and 16:00 from Mutianyu. Get out the B exit of Dongzhimen Subway station and walk straight until the traffic light and make a left. Then you will find bus on your left, but do not stop, walk for about 300 meters until you find yellow board with "八方达公交车站" That`s bus station you are looking for. Make sure you arrive there earlier for there are many people waiting for the bus. The bus runs only from March 15 – Nov 15.
Another cheap and easy way to travel to Mutianyu is take a join-in coach tour, the price is as cheap as USD30 including tour coach, entrance tickets, lunch, English speaking tour guide, pick-up and drop-off service. Usually they will also take you go to Ming Tombs or other locations. Check their tour schedule carefully before you taking the tour.
Mutianyu Great Wall Map, click the map to enlarge it.