Juyongguan Great Wall is about 60 kilometers from Beijing downtown, in the northeast of Changping District, an hour drive from Beijing City.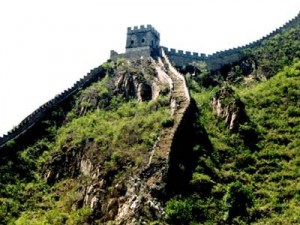 Juyongguan Great Wall was first built in the Ming Dynasty (1368-1644) and is a crucial pass of the Great Wall. It is made in various shapes, among which the most famous is the unique shape resembling '人'.
Connected with the Badaling Great Wall in the north, this section of the Great Wall is featured by the grand Juyongguan Pass which is one of the three great passes of the Great Wall of China (the other two passes are Jiayuguan and Shanhaiguan). In fact, there are two passes in Juyongguan Great Wall, one to the south and one to the north. The southern one is what we now call Juyongguan and the northern one is Badaling.
Juyongguan Pass has long been a military stronghold, serving as a natural barrier to the invaders. Many fierce battles were fought here in the ancient times. Besides, the Juyongguan Great Wall is also a gorgeous scenic spot, beautiful flowers and lush trees dotting the mountains.
Juyongguan is the closest section to Beijing. Badaling and Mutianyu Great Wall is only a little further.