Mount Nan Pasture is located 60 kilometers from Urumqi at the mountainous area in the north of Mt. Tianshan. From east to west, there are over ten valleys dotting the scenic area.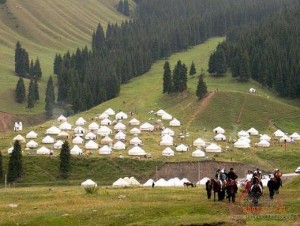 Mount Nan Pasture is a great place for horse riding and relaxing in beautiful natural scenery. With the mountain's icy peaks reaching towards the clouds, crystal ice glaciers, winding mountains, steep cliffs, dense forests, running rivers and fresh, clean air, it offers a unique retreat from summer days.
Mount Nan Pasture was a hunting ground in the Tang Dynasty and a famous pasture in the Qing Dynasty. It was also a favourite summer holiday spot during the Qing Dynasty.
A 40 metre-high, 2 metre-wide waterfall cascades from the top of the mountain, and often generates a great deal of fog. A highlight in the South Pasture area is a glacier in the higher elevations of Nan Shan that is called Number One Glacier.
You can enjoy a ride through the valleys on a horse or a camel, wander across the woods picking mushrooms and enjoying the magical wild flowers, and climb up the mountain for trekking. You can also experience some of the Kazakh way of life, and dine and stay in a yurt relatively cheaply not far from Urumqi.