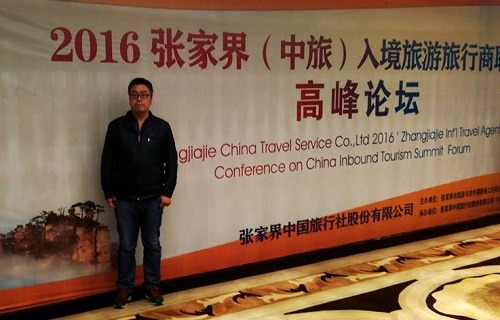 IntoChinaTravel was invited by Zhangjiajie Tourism Bureau to attend the International Travel Agencies Conference on China Inbound Tourism 2016 Zhangjiajie during March 07-13.
The conference not only gathers domestic inbound tourism industry agents but also invites those from 22 countries including United States, Canada, Australia, France, Singapore, Indonesia, Thailand, Kazakhstan, Iran, India and UAE.
The inspection group visited most major tourist spots in Zhangjiajie such as Tianmen Moutain, Zhangjiajie National Park, famous Fenghuang Ancient Town, Furong Town, etc. We also watch three fantastic night shows: Tianmen Fox Fairy Show, Charming West Hunan Show and Biancheng. We also taste delicious coal spicy food.
You can find beautiful pictures I shot during the tour on our FaceBook page. It is amazing to experience so many things in Zhangjiajie. I think everyone should have a trip to Zhangjiajie, just as the slogan says: "East or west, Zhangjiajie is the Best."
Anyone who are interested in tour in Zhangjiajie, please check our tours at https://www.intochinatravel.com/city-tours/zhangjiajie-tours/.