Huangpu River is 114 km long and with 60 km in Shanghai. The river divides Shanghai into east and west parts. The west bank is called Puxi and is the old residential and business area of Shanghai. The east bank is called Pudong, a new booming financial and commercial center of Shanghai.
Cruise on Huangpu River is a fantastic experience for travelers.  On the cruise ship you can see Shanghai's past, today and its future. At present, there are about 20 different size cruise ships on Huangpu River with the largest one can accommodate 1,000 passengers and the smallest one only 80 passengers.
Most ships depart from ports near the Bund (Zhongshan Road), sail north towards the Nanpu Bridge (Some long cruise itineraries can reach to Wusongkou mouth of the river) and return to the Bund.
There are different cruise lengths from half an hour to 3.5 hours. Most travelers will choose the 1 hour cruise and just see the highlight views of the Huangpur river.
The most popular cruise ship departs every 30 minutes from 10:00 to 21:00 daily from Shiliupu Wharf. The boarding port is Shiliupu Wharf ( No.171, Zhongshan Nan Lu), the travel north to see the Bund – Binjiang Avenue Shangri-La Oriental Pearl TV Tower, Yangpu River Bridge and then Waibaidu Bridge, see the colonial building groups, then cruise back to the pier. The ticket price is RMB100 per person.
Travelers can take the cruise themselves or join join Zhujiajiao Water Town and Huangpu River Cruise Group tour which will take you to cruise on Huangpu River combined sightseeing at Zhujiajiao Old Water Town. The tour departs every Tue, Thu, Sat and Sun.
We also have tour to Zhujiajiao Water Town and Ancient Shanghai tour with affordable price.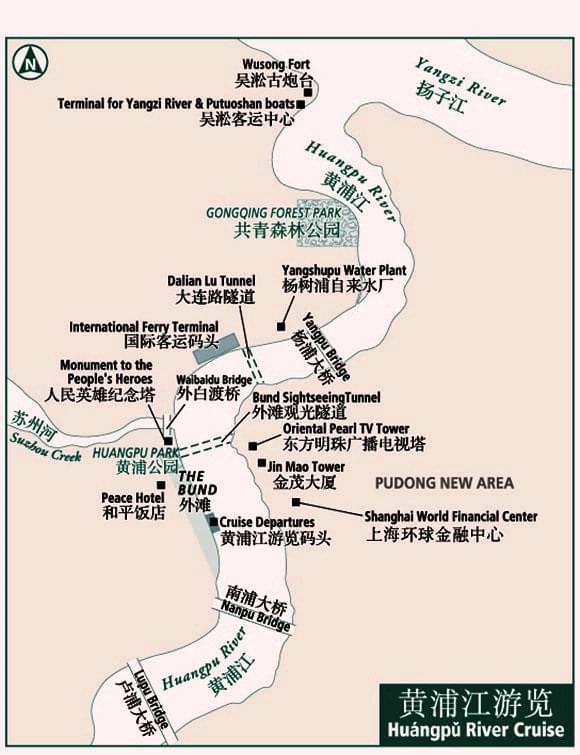 Notes:
1. The best time to take a Huangpu River cruise is at night when all the buildings along the river are lit up.
2. Shiliupu Wharf is located south of the Bund, No.171, Zhongshan Nan Lu, Shanghai.
3. The embarking dock is Gate 3
4. Travelers can the subway line 2 and get off at Nanjing Dong Lu (Nanjing East Road), then walk south along the Bund to the pier.