Ganden Monastery is located on Wangbur Mountain, on the southern bank of Lhasa River in Tagtse County, 47 kilometers from Lhasa City.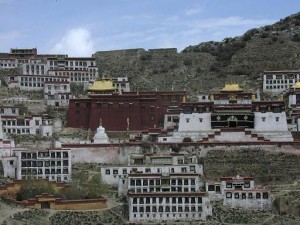 Ganden Monastery is one of the earliest and largest Buddhist monasteries in Tibet, Ganden Monastery was founded in 1409 by Tsongkhapa, the originator of the Gelugpa, or Yellow Hat, branch of Tibetan Buddhism. It is one of the three principle Gelugpa monasteries in the Lhasa district.
The monastery comprises eight major buildings. The most impressive structure is the Gold Tomb of Tsongkhapa(Serdhung Lhakhang) in the heart of the complex, easily recognized by the recently built white chorten, or small shrine, standing before the red building. On the second floor is the chapel of Yangchen Khang, with the new golden chorten of Tsongkhapa. The original (1629), made of silver, later gilded, was the most sacred object in the land.
 
The main assembly hall is the main draw of the sprawling Ganden Monastery. The room is supported by over a hundred columns and is large enough to accommodate several thousand chanting monks.
The pilgrimage route hiking is a highlight of the Ganden. This hour-long hiking can reward you with downward view of Lhasa River Valley, small villages, Tibetan pilgrim aspects like prostrating pilgrims, fluttering colorful prayer flags, yak-butter-offerings-rubbed rocks and small shrines in rock fissures.
Every 15th, June in Tibetan calendar will see the three-week Thangka Unfolding Ceremony during which 24 Thankas bestowed by a Ming dynasty emperor in 15 century will be exhibited.
Tibet Tours
6 Day Beijing Lhasa Train Tour  train from Beijing to Lhasa and back to Beijing by flight
9 Day Grand Tibet & from Beijing by train  visit Lhasa and other Tibet areas
15 Day Beijing Tibet and Yangtze River Cruise Tour