China's New Year Festival is the biggest and most important festival of the year. An essential part of every Chinese New Year is the Chinese New Year Decorations that each family puts up. Each decoration is steeped in tradition and has wonderful and auspicious meanings. Many of the origins of the decorations put up during the New Year Festivities have been lost over the years, but there are many legends of the origins of the Chinese New Year and its decorations. These decorations have recently become popular in the Western world and many of them can now be found in cities throughout the world.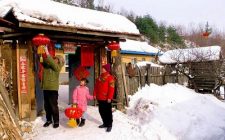 Houses and shops are decorated during the twelfth month of the Chinese lunar calendar in preparation for the Chinese New Year. These decorations are as essential to the Chinese New Year Festivities as their counterparts are to Christmas. Although each area of China has its own unique traditions, many of the decorations can be found in all parts of China. Each Chinese house is festively decorated inside and out. The entire family is involved in decoration for Chinese New Year. On the exterior of homes and shops, red lanterns are hung, Couplets can be found on either side of the doors, and either Door Gods or the Character Fu are placed on the doors themselves. Inside each home, Flowers can be found in every room, New Year's Prints can be found on the walls, and Papercuts are mounted on the windows. Many trays of snacks, candy, and fruits are prepared inside the house in anticipation for the many visitors that will arrive. They are known as Trays of Togetherness and traditionally had eight compartments each for a different snack.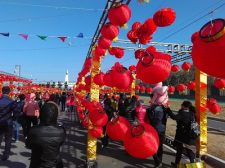 The last day of the Chinese New Year is the Lantern Festival. On this day houses and city squares are decorated with beautiful lanterns. Except Chinese New Year Decorations, there is also a natural decoration feast waiting for you. Step into the nature paintings of Guilin and Yangshuo to enjoy the natural decorations.
Chinese New Year is a time for family and friends. It is loved and looked forward to by everyone in China. Its popularity has crossed boundaries and now Chinese New Year is celebrated in many countries around the world and by not just Chinese. Its beautiful decorations and traditions can be seen in cities from Chicago and London, to Paris and Berlin. It is the decorations of China's New Year that really brighten up the festival. Their beauty and history are loved by all. It is a very special time of year.