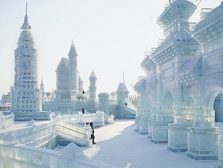 Winter is the best time to visit North China. At this time traveling to North Part of China is like stepping into the silver wonderland. People have a variety of interesting activities to join such as seeing splendid ice carvings, skiing in ski resort and enjoying rime scene. This tour will take you to visit Beijing, capital of China, as well as famous winter cities of Harbin and Jilin City.
Tour Code: CCT49
Departure: Jan, Feb
Duration: 10 days
Language: English
Please send us an email to inquire
Day 1 Entry Beijing
Pick you up from airport and transfer to hotel, free time to explore the city by yourself.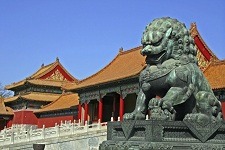 Day 2 Beijing B.L
You will have an excursion to northern mountain area. First, drive to Badaling Section to walk along the grand Great Wall; it is symbol of China and also of the greatest human projects in the world. Then continue your trip to Ming Tombs, where 13 emperors were buried. After that you will have chance to take photos of Bird Nest and the Water Cube from outside, the two buildings are the most famous stadiums for 2008 Beijing Olympic Games as well as outstanding architectural masterpieces.
Day 3 Beijing B.L
Start your trip today by visiting Tian'anmen Square, the absolute city center of Beijing and one of the largest city squares in the world. Then walk north for a few hundred meters to the Forbidden City, where 24 emperors of the Ming and Qing Dynasties ruled China for nearly five and half centuries. In the afternoon visit the Summer Palace, this was the summer retreat of the China's emperors in later Qing Dynasty.
Day 4 Beijing B.L
In the morning, head to Beijing Zoo to see the lovely Giant Pandas, This cute creature is a national treasure, if you are lucky, you will see pandas climb up and down trees in its playground. After that you will travel to Yonghe Lama Temple. Built in 1694, the temple is a Tibetan Buddhist temple belonging to the Yellow Hat sect of Lamaism. Then continue to explore Hutong (ancient lanes) by taking rickshaws, you will visit a local family and chat with locals.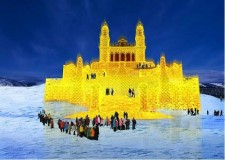 Day 5 Beijing – Harbin by train B
Transfer to railway station and take early morning train to Harbin D29 7:00 – 14:45. Located in Northeast China, Harbin is famous for its various ice activities and exotic architectures. Pick you up from Harbin railway station and visit St. Sofia Church, Central Street, and then transfer to hotel.
Day 6 Harbin B.L
In the morning visit Stalin Park, the park stands for the friendship between the world's two most powerful communist countries. Your next stop is Siberian Tiger Park, where visitors can buy meat or live animals to feed the tigers, take photos with tigers and appreciate closely them. Then travel to Harbin Sun Island and enjoy your time in International Snow Sculpture Art Expo, where visitors will marvel at giant ice and snow sculptures in various shapes. Another highlight of the day is The World of Ice & Snow, the best time to visit is at night when multicolored lights illuminate the sculptures, showing a whole new colorful dimension to the exhibits.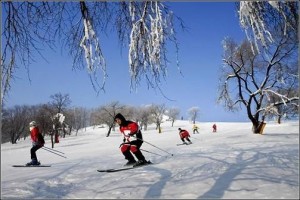 Day 7 Harbin/Yabuli Ski Resort/Harbin B
Full Day at Yabuli Ski Resort to enjoy skiing (self-paid item). Yabuli is China's largest ski area with the best facilities. It owns a number of tracks suitable from new skiers to highly challenging ones. The resort is also famous for its scenic beauty with imposing mountain ranges covered with pine forests.
Day 8 Harbin/Jilin by train B
After breakfast, transfer to railway station and take fast train to Jilin D1386/D1387 09:58 – 12:12. You will be met and visit Songhua River and visitors have chance to enjoy the magnificent rime ice on trees along the banks of the Songhua River. The rime is a kind of phenomenon when fog condenses on the branches and leaves of trees to form separate, white ice crystals. Then visit Jilin Meteorite Museum, the museum exhibits 138 meteorite specimens and the 1775 kg meteorite is the biggest one in the world.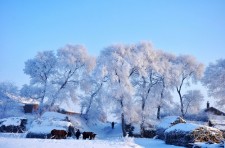 Day 9 Jilin/Beijing by train B
Enjoy the beautiful Jilin Rime in the morning. When the sun rises, travelers will marvel at the silver wonderland: willow branches silver bands and pine trees turn into white chrysanthemums. Transfer to railway station for train to Beijing D74 10:26-17:47, transfer to hotel in Beijing.
Day 10 Depart Beijing B
Free time and transfer to airport for flight back.
Price includes:
1. Private transfers between airports, tourist sites, railway stations, hotels.
2. Economic train ticket between cities as mentioned in the itinerary.
3. Hotel based on twin-share standard room with breakfast included.
4. Driver and English-speaking guide service on sightseeing activities noted in the itinerary.
5. All entrance fees to scenic spots as shown in the itinerary (Yabuli Ski Resort is a self-paid item, the price is on your own)
6. Meals as specified in the itinerary.
7. Travel insurance
Price excludes:
1. International flight
2. Visa fee or renewal fee.
3. Any meals not specified in the itinerary.
4. Tips for guides and driver.
Reservation
Tel: +86 178 1320 5162
E-mail: service@intochinatravel.com
Skype ID: intochinatravel