Located in the center of Lhasa, Barkhor Street encircling Johkang Temple is one of the three pilgrimage circulations in Lhasa.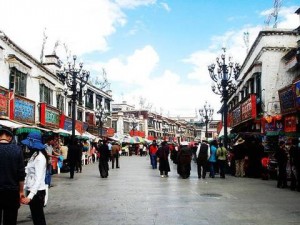 It has been an essential pilgrim route since the foundation of the Johkang Temple. Buddhist pilgrims can be seen throughout the day and night walking, or prostrating themselves clockwise along Barkhor Street spinning their prayer wheels and chanting sutras.
The street area is very big covering many streets and alleys. The main street surrounding the temple is a 1,000-meter street bustling with hundreds of store fronts and street vendors. Worshipping wares and tourist souvenirs are hawked along this Tibetan-ambience stoned street: yak butter lamps, prayer wheels, scriptures, turquoise and coral jewelries, antique carvings, Tibetan carpets, etc. Tibetan snacks and cuisines are easy to spot here.
Besides the shopping and location for pilgrimages, Barkhor Street has a lot of historical interest. A small building that used to be Lhasa's Yamen is located on Barkhor Street. It used to be the office of Lhasa's magistrate. A small lane going north from Barkhor street leading to a market is the oldest street in Lhasa. A small three story temple is located on Barkhor Street is said that Tibetan characters were invented in the temple.
It is important to bargain on Barkhor Street. The given price is often many times more than the price the shop keeper will accept. It is best to shop around. Many shops will sell similar items, and it is the best way to ensure you get the cheapest price. Sometimes if visitors find something they really want, it is acceptable to pay a higher price because many of the items found on Barkhor Street cannot be found anywhere else in the world.
According to tradition, Tibetan shop keepers will offer discounts to the first and last shopper of the day.
Tibet Tours
6 Day Beijing Lhasa Train Tour  train from Beijing to Lhasa and back to Beijing by flight
9 Day Grand Tibet & from Beijing by train  visit Lhasa and other Tibet areas
15 Day Beijing Tibet and Yangtze River Cruise Tour