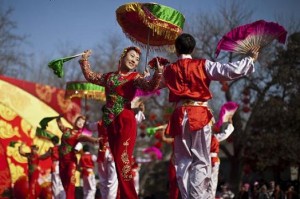 Nowhere would be better than Beijing to spend a Chinese Spring Festival (Chunjie). The grand celebrations of Lunar New Year will be held in Beijing. New Year firework shows, temple fairs, lantern fairs, performances for coming new year, and various forms of celebrations are among the best in China.
Even the walled Hutongs, which have been home to Beijing residents for centuries, will never fail to surprise visitors for the most original atmosphere of Chinese New Year and what lies around the next corner.
We recommend you to visit Harbin, the perfect place to hold the most spectacular ice and snow festival. Held in winter every year, it is one of the world's four largest ice and snow festivals. In this festival, some of the most incredible ice carvings, sculptures, and structures illuminate with color each evening for an entire month.
Tour Code: CCT53
Departure: From January to March.
Duration: 7 days
Language: English
Please send us an email to inquire
Highlights:
1. Tour Beijing – the capital of china, to feel its history and New Year atmosphere. Learn to make and eat the delicious dumplings in Hutong
2. Visit the Forbidden City, the largest museum in China, the most comprehensive museum with antiquities, an unparalleled masterpiece of architecture.
3. Touring Beijing Great Wall, which is ancient, breathtaking and serene, will give you a fairly typical China experience.
4. Enjoy yourself in the International Ice Lantern and Sculpture Festival in Harbin, visit the biggest Orthodox Church in the Far East
Day 1 Arrival Beijing
Transfer via: Flight on your own arrangement
Upon your arrival at Beijing airport, your tour guide will hold a welcome sign to meet you and escort you to your hotel. The rest of the day is free for you. You may either rest to recover from jetlag at hotel, or head out to this pulsing metropolis with both inherited ancient splendors and astonishing modern achievements.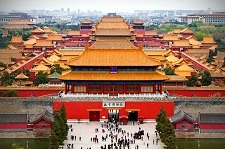 Day 2 Beijing
Sites visited: Forbidden City,Hutongs,Tiananmen Square
Special Dinner: Dumpling Dinner
Today you will first visit the historic Tiananmen Square, the largest city square in the world. You could come to see the national flag rising ceremony if could get up early.
Followed by is a visit to the magnificent Forbidden City, which is the largest palace structure in the world and the place where China's emperors ruled for over 600 years.
In the afternoon, you will visit Hutongs by rickshaw. Hutong means old narrow path with lots of the courtyard homes where ordinary people are living. You will see the old houses and the traditional Chinese New Year custom in Hutongs.
Oh, it is time to have lunch. Your lunch will be served in one of the local people's home during the tour. If you like, you could learn how to make dumplings, which are necessary food during Spring Festival in China. Eating dumplings during the Spring Festival is considered auspicious for fortune and wealth in the year to come.
Although eating dumplings for a good luck is a part of Chinese New Year superstition, Chinese people still would like to follow it.
You may also get chance to enjoy Paper-cut too. Paper-cut is a famous Chinese traditional craft. It conveys people's good wish to beautiful and happy life.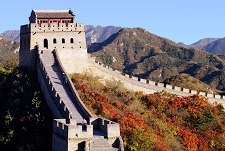 Day 3 Beijing
Sites visited: Great Wall, Sacred Road
Today you will have a visit to the majestic Great Wall (Badaling section), which is the most outstanding representation of China's Great Wall. Moreover, the surrounding scenery of the Badaling section is unbelievable impressive.
Your sightseeing will be carried on to the Sacred Road. This was the ancient pass to the Imperial Tombs of Ming Dynasty. The road lined with the stoned animals, mystical beasts and the officials who serve the emperor in his afterlife.
Day 4 Beijing / Harbin
Transfer via: Domestic flight (About 2 hour flight)
Sites visited: Temple fairs,Temple of Heaven
Gala Event: Folk Art Performance
Today you will visit Beijing's splendid Temple of Heaven, where China's emperors annually went to pray for a good harvest. If you visit here in the early morning you could enjoy watching the locals doing their morning exercises.
If you come to Beijing during the right time, you could visit the temple fairs held during the Spring Festival. A Temple fair is a folk celebration of New Year featured by folk sings and dances, traditional acrobatic and talent shows, opera performances, snacks and nibbles, and various activities. It is a refraction of the lives of Beijing people in the past and present. Moreover Chinese traditional Dragon Dance and Stilt Walking will always make you surprise.
Your tour guide will then escort you to the airport for your flight to Harbin, which is the northernmost city of China. It has been called the little Moscow by Chinese people. You will be picked up at the airport and transferred to the hotel. Enjoy the rest of the day at your leisure.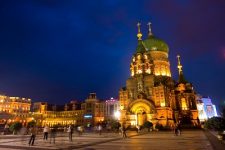 Day 5 Harbin
Sites visited: Siberia Tigers Park, Sofia Church, Sun Island
Gala Event: Ice Lantern Show
After breakfast, you will be escorted to the Sun Island Park by coach for the New Year Snow Exposition. Relax yourself in the world of snow.
Caged in a specially protected bus, you will visit the Siberian Tiger Park and watch the tigers while driving in the park.
After the lunch, you will be visiting a landmark building of Harbin – the Sofia Church. It is the biggest Orthodox Church in the Far East.
At night, you will be heading to the highlight of this tour as well as the highlight of the Harbin International Ice and Snow Festival – the Ice Lantern Show. The magical and extraordinary ice lanterns and sculptures have literally made the place an icy fairyland.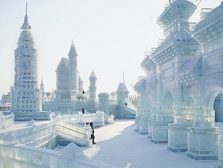 Day 6 Harbin
Sites visited: Provincial Museum of Heilongjiang
Gala Event: Ice activities
After breakfast, you could take part in some interesting ice activities (watch winter swimming, ride on the ice sailing boat or ride sledge down the slope). Then you will be escorted to the Provincial Museum of Heilongjiang, where has more than 104,000 pieces of relics and specimens for you to dig up. The rest of the day is free for you to explore this exciting northern Chinese city. It sure is another feeling when you strolling the snowy city by yourself. Enjoy!
Day 7 Harbin / Departure
Transfer via: Flight on your own arrangement
Free in the day until your tour guide escorts you to the airport for your flight.
Price includes:
1. China domestic flights as specified in the itinerary
2. Accommodations: for 6 nights in 4 star, in comfortable twin-bedded rooms with a private bath, air-conditioning, television, telephone and minibar.
3. 12 meals: 6 full breakfasts, 5 lunches, 1 dinner (included dumplings and Chinese dishes dinners)
4. Round-trip transfers between airports, hotels, and scenic spots in each city by private air-conditioned vehicles with experienced licensed drivers
5. A local English-speaking guide in each city
6. Entrance fees to all scenic spots listed in the itinerary
7. Luggage transfers between airports and hotels
8. Travel Insurance
9. Government taxes and service charges except tips for tour guides and drivers
Price excludes:
1. Tips for guides and driver.
2. Any items not specified in the plan.
Notes:
1. If you have any specific requirements for food, for example, vegetarian, vegan or food allergies, feel free to tell us! The things you do just write down your problem on the inquiry form so that we could arrange you the special accommodations according to your situation in advance.
2. Every China Festival Tours' tours are Private Tours. Travelers will have their own personal Tour Guide and Driver. Even if a traveler is traveling alone, they will have their own personal Tour Guide and Driver.
Reservation
Tel: +86 178 1320 5162
E-mail: service@intochinatravel.com
Skype ID: intochinatravel