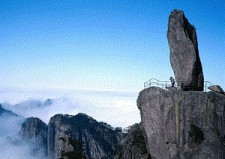 If you would like to climb one mountain in China, let it be Huang Shan (Yellow Mountain). In southern Anhui Province, and inscribed on the UNESCO World Heritage List in 1990, Huang Shan, with its 72 peaks, is China's most famous mountain for scenic beauty. The mountain is known instead for its sea of clouds, strangely shaped rocks, unusual pine trees, and bubbling hot springs — four features that have mesmerized and inspired countless painters and poets for over 1,500 years. Whenever you visit, allow at least 2 days for the mountain, and another day or two for the attractions around Tunxi. This 4 day Huangshan tour is your absolutely best choice. It could be an extension tour from Shanghai or Beijing. It is a journey providing you with an approach to Huangshan in an all-round way.
Tour Code: HST03
Tour Type: Private tour
Destinations: Huangshan
Departure: Daily
Duration: 4 Days
Language: English
Please send us an email to inquire.
Details
Day 1 Arrive Huangshan
Upon arrival in Huangshan City, you will be greeted by your guide and transferred to the hotel. The rest of the day is to explore the city on your own.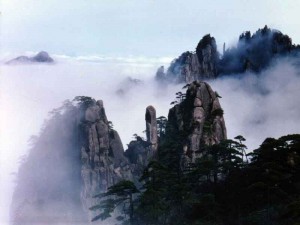 Day 2 Huangshan B.L
After breakfast drive to Huangshan Scenic Area in a private car (about 80 kilometers with 1.5 hours' drive) and then take the Yungu Cable-car up the Mountain. You could admire the magnificent scenery on the cable car. Upon arrival, enjoy the spectacular views at the Begin-to-believe Peak, renowned for the grotesque rocks and pines.
After that, proceed to Flower-scattering Valley followed by the Lion Peak, the rock is exposed like a powerful lion crouching on the mountain, hence the name.
Your next stop is  the Cloud-dispelling Pavilion, which is the best place for admiring the unique rocks and cloud sea of the Xihai Grand Canyon.
Overnight at hotel on the mountain summit, if weather is good you will catch an amazing view of sunset over Huangshan Mountain.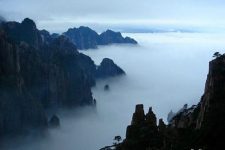 Day 3 Huangshan B.L
Get up in early morning and view the sunrise if the weather is good. After that continue touring at the Flying-over Rock, its shape resembles a rock having just fallen from the sky. The rock is 12 meters high, 8 meters wide with a weight of 360 tons.
Then you will explore the Brightness Summit, it got its name because the hours of sunshine in the peak are longer than the other peaks because of its height. It is also one of the best places for viewing the sunrise and cloud-shrouded peaks of the mountain range. Then we will descend the Mountain by the Yungu Cable-car.
Drive to Yixian County to pay a visit to Xidi and Hongcun Ancient Villages (about 70 kilometers with 1.2 hours' drive).  Xidi and Hongcun have about 400-500 years of history. The original residential style and features of the Ming and Qing Dynasties were preserved perfectly. They were listed as a world cultural heritage site by UNESCO in 2000.
Drive back to Tunxi, central district of Huangshan City and have a good rest.
Day 4  Leave Huangshan B.L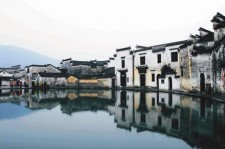 In the morning drive to Shexian County—one of the historic and cultural cities in China (about 30 kilometers or 40 minutes' drive). Situated at the southern foot of the Yellow Mountain, Shexian County was the birthplace of the unique Huizhou Culture.
There, you will appreciate the unique Tangyue Archways, Bao's Clan Garden, and the mysterious village of the Eight Diagrams—Chengkan Village (about 50 kilometers or 1 hour's drive). After seeing all those above, you may get some idea of the spirit of the architecture style in Ancient Huizhou Prefecture.
Then, drive back to Tunxi and take a stroll in the best preserved old street named Tunxi Old Street.
Transfer to the airport / railway station. End of your Huangshan tour.
Hotel  4 star
Huangshan city – Tiandu International Hotel with breakfast
Huangshan Mountain top – Huangshan Shilin Hotel with breakfast
Price
---
| | |
| --- | --- |
| Travelling Party | Price Details(per person in US$): |
| 1 person | $1020 |
| 2 persons | $630 |
| 3-5 persons | $510 |
| 6-9 persons | $415 |
| 10 persons up | $380 |
1. If you want to stay in a single room. the single supplement is USD125.
2. Additional USD25/pax for weekend (Friday and Saturday Night) surcharge on the top of mountain.
Inclusions
A. Hotels (twin share basis) with breakfast
B. Private car or van with experienced local driver
C. English speaking tour guide
D. Entrance fees and cable cars
E. Meals as listed in the itinerary (B=Breakfast, L=Lunch, D=Dinner)
Exclusions
A. Airfare or train tickets.
B. Tips to guides and drivers.
Booking
Tel: +86 178 1320 5162
E-mail: service@intochinatravel.com
Skype ID: intochinatravel
---
Additional Info
1. Transportation between Hangzhou and Huangshan
Public Bus
Hangzhou West Bus Station ( 杭州汽车西站)  –  Huangshan Tunxi (黄山屯溪快) . The bus is available from 06:50, 7:50, 8:40, 9:40. About  2.9 hours ride. Ticket price RMB88. You can buy
the ticket on your own.  For the back from Huangshan. Our guide can help you buy ticket back from Huangshan at bus station.
Train:
G1508/G1509  Hangzhou East(杭州东站) 09:49 – Huangshan North 13:15(黄山北)     G1507/G1510  Huangshan North 13:50(黄山北)- Hangzhou East(杭州东站) 16:59
We can buy train tickets from our side.
2. Transportation between Shanghai and Huangshan
Train
Shanghai to Huangshan Train Schedule
Note: The above tour package rate is based on second class seats, if you need first class seats, please contact our trip advisors.
| Train No. | Shanghai Hongqiao | Huangshan North | Travel Time |
| --- | --- | --- | --- |
| G7317 | 08:05 | 11:40 | 3h35m |
| G1509 | 08:42 | 11:08 | 2h26m |
| G7319 | 09:38 | 12:44 | 3h6m |
| G7191 | 11:51 | 14:41 | 2h50m |
| G7193 | 12:46 | 15:40 | 2h54m |
| G7301 | 13:30 | 16:08 | 2h38m |
| G7315 | 14:05 | 17:07 | 3h2m |
| G7303 | 16:22 | 19:29 | 3h7m |
| G7305 | 17:27 | 20:41 | 3h14m |
| G7307 | 18:07 | 20:56 | 2h49m |
| G7309 | 18:48 | 21:16 | 2h28m |
| D3323 | 19:06 | 22:05 | 2h59m |
Flight
Shanghai - Huangshan Flight Schedule
Note: If you need flight tickets between Shanghai and Huangshan, please consult with our trip advisor.
| Directions | Flight No. | Departs | Arrives | Duration |
| --- | --- | --- | --- | --- |
| Shanghai Hongqiao- Huangshan | FM9267 | 13:15 | 14:25 | 1h10min |
| Huangshan - Shanghai Hongqiao | FM9268 | 22:05 | 23:20 | 1h 15min |