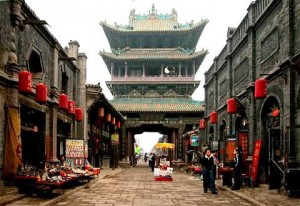 If you are interested in China history and Culture, Shanxi is a good choice to explore. In this tour, you will visit Pingyao, Taiyuan and Datong, which are famous for trade, wealth, architecture and grotto in the history of China.
Have a happy trip for Chinese New Year in Shanxi, where wall saved history
New Year folk celebrations, such as lion and dragon dances, decorating windows with red paper-cuts, pasting red couplets, in Pingyao and Taiyuan are extremely famous for lively traditions and historic atmosphere. Here you will feel the real full-bodied taste of the New Year.
Pingyao is possibly the best-preserved ancient walled city in China.
You'll come across Yamen (the ancient government offices), Rishengchang Exchange Shop (the ancient business bank in China), Qiao Family's Compound (the ancient residence for the rich) and the real town offering rare insight into various aspects of life in imperial China.
Yungang Grottoes in Datong enjoy great reputation across China as one of the largest clusters of grottoes in China.
Tour Code: CCT55
Departure: From January to March.
Duration: 4 days
Language: English
Please send us an email to inquire
Day 1 Arrival Datong
Accommodation:Yun Gang International Hotel
You are going to be a lucky guy upon your arrival in Datong. Your local guide will meet you at the train station and transfer you to the hotel. The rest of the day is free for you to explore the city on your own leisure.
Day 2 Datong / Taiyuan
Transfer via: Soft Sleeper Train arranged by us – Train No.: N265 (14:25-19:44 Local Time)
Sites visited: Nine Dragon Screen,Taiyuan,Yungang Grottoes
Special Dinner: Dumpling Dinner
Accommodation:Yuyuan Hotel
Today, you will be excursing an old region of China, including a visit of China's oldest and largest Nine Dragon Screen. It is near 400 years older than the one in the Forbidden City, and three times larger than that in the Beihai Park in Beijing. These are the only three Nine Dragon Screens have survived hundreds years of natural disasters and wars.
Yungang Grottoes is your second destination to visit. It is a World Heritage site, and a treasure-house of the Chinese ancient sculptures. The Yungang Grottoes has a series of 53 caves and over 51, 000 stone sculptures. It is an excellent site to appreciate the splendid Chinese ancient Buddhist art.
Having an intimate encounter with the Spring Festival, today you will be learning, making, and enjoying your own dumplings, a necessary food during Spring Festival in China. However, dumplings is not only the New Year food in China. If you interested in more Chinese New Year food, please click in. Then you will take the afternoon train to Taiyuan. Your local guide in Taiyuan will pick you up and escort you to your cozy hotel.
Day 3 Taiyuan / Pingyao
Sites visited: Jinci Temple,Pingyao,Qiao Family's Compound,Twin Pagoda Temple
Accommodation:Lizeyuan Hotel
Before driving to Pingyao (2-hour drive), you will first visit the Jinci Temple, the old temple located at the foot of the Xuanweng Mountain. The ancient halls, terraces, pavilions, corridors, and bridges inside the temple are really peaceful and harmonious in arrangement. It is truly a visit-worthy place.
Twin Pagoda Temple is your next destination. It is the symbol of Taiyuan City. If you get to the top of a one of the two Pagodas, you will enjoy the panorama of the city.
You will drop a visit at the Qiao Family's Compound on your way to Pingyao. It is a perfectly preserved ancient mansion in Taiyuan. Every New Year, the whole mansion will be decorated with the auspicious red lanterns. It looks extremely beautiful and gives visitors a feeling of time travel back to its history. (Red Lanterns are the inevitable decorations of the Lantern Festival)
You will stay overnight at the charming historical Pingyao city. It is more than 2700 years old with well preserved ancient city walls and streets, as well as its traditional custom. You will be totally overwhelmed by the traditional atmosphere of Chinese New Year in this cozy city. (Click the mouse to know more Chinese New Year traditions before you go ) Enjoy you Chinese New Year!
Day4 Pingyao / Departure
Sites visited: Ancient City Walls ,Ming and Qing Street,Rishengchang Exchange Shop,Rishengchang Exchange Shop,Shuanglin Temple
Today, you will visit Shuanglin Temple, where has one of the largest collections of Buddha statues among all Buddhist temples in China. It has more than 2,500 exquisitely painted clay figurines and statues of various Buddhas.
Your next stop is the Ancient City Wall of Pingyao, which is the best preserved ancient city wall in China. During the Chinese New Year, red lanterns make the wall fantastic to look and visit.
Rishengchang Exchange Shop is your third destination. It is China's first bank. Now it is converted into a museum. It is a good opportunity to understand China's early financial management.
If you come at the right time, you could see the local New Year folk performance and parade, which is called Shehuo. Chinese famous Dragon Dance and Stilt Walking are performed there. It is the most interesting New Year event in Pingyao, and could be your best New Year experience.
Your last destination, the Ming and Qing Street in the Pingyao ancient city, is the essence of you Pingyao tour. This is a perfectly preserved ancient commercial street looks the same as it looked hundreds years ago, which makes it the best place to explore ancient Chinese culture. The hotels on the street offer traditional brick-oven beds; the shops sells dazzling array of traditional art wares; and the doors of shops and houses are pasted with Chinese auspicious red couplets.
Before your tour guide escort you to the train station, double check that you have packed everything, including your Chinese New Year memories.
Price includes:
1. China domestic flights as specified in the itinerary
2. Accommodations: for 3 nights at 4 star hotels in comfortable twin-bedded rooms with a private bath, air-conditioning, television, telephone and minibar.
3. 6 meals: 3 full breakfasts, 3 lunches .
4. Round-trip transfers between airports, hotels, and scenic spots in each city by private air-conditioned vehicles with experienced licensed drivers
5. A local English-speaking guide in each city
6. Entrance fees to all scenic spots listed in the itinerary
7. Luggage transfers between airports and hotels
8. Travel Insurance
9. Government taxes and service charges except tips for tour guides and drivers
Price excludes:
1. Tips for guides and driver.
2. Any items not specified in the plan.
Reservation
Tel: +86 178 1320 5162
E-mail: service@intochinatravel.com
Skype ID: intochinatravel