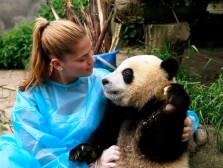 If you plan to travel to China, China volunteer projects are a fantastic way to gain a deeper understanding of the country and make a real contribution. Along the way of this volunteer trip we will enjoy ancient and modern cities, besides the most significant thing is the volunteer experience. You will spend several days with panda in Bifengxia Base which provides you with unique volunteer experience, and that will be so memorable in your future life. You will go to the Children's Village in Xian to help educate and foster their under aged children.
Tour Code: CST07
Destinations: Beijing, Xian, Chengdu, Ya'an, Suzhou, Shanghai
Departure: Daily
Duration: 14 days
Language: English
Please send us an email to enquiry.
Details (B=Breakfast, L=Lunch, D=Dinner)
Day 01 Arrive Beijing
Arrive in Beijing, our tour guide will meet at the Capital Airport and transfer to hotel to check in. Remainder of the day you may explore Beijing as an ancient capital as well as a modern metropolis by yourself.
Day 02  Beijing B. L
Full day to visit the Tian'anmen Square, the largest public square in the world and surrounded on all sides by official government buildings and important landmarks. Then walk north and pass under the Mao portrait and keep going for another 200m and you'll find yourself in front of the grand Forbidden City. This grand imperial complex is home to the emperors for over 500 years in the Ming and Qing dynasties. After spending some time in this imperial palace, you will take tour coach to the southern part of the city to have a leisure time in Temple of Heaven where ancient empires pray for an abundant harvest.  Then you will have a special experience by riding a rickshaw along winding Hutongs (ancient alleys). On this ancient transport means you will enjoy the street scene closely and gain a more intimate flavor of life in old Beijing.
Day 03 Beijing B. L
After breakfast head for the Summer Palace, located on the western edge of Beijing, It is a former summer resort for the royal family and masterpiece of Chinese landscape garden design. The natural landscape of hills and open water is combined with artificial features such as pavilions, halls, palaces, temples and bridges to form a harmonious ensemble of outstanding aesthetic value. After lunch at a local Chinese restaurant, you will drive out the city to have an excursion to the norther mountainous area, after driving about one and half hours on the gradually elevated highway, you will suddenly find the Great Wall just in front of you, the Great Wall is just like a gigantic dragon winding its way along the mountain ridges. It is the landmark of China and one of the most amazing feats of human labour.
Day 04 Beijing-Xi'an B
After breakfast, transfer to Capital Airport and take morning flight to Xi'an. When arrive in Xian, Xi'an is an important ancient capital of China, having held the position under several important dynasties  in ancient China including Zhou, Qin, Han, Sui, and Tang. The city is also famous for  the eastern terminus of the Silk Road and home to the Terracotta Army. Once arrive in airport in Xian, we will pick you up from airport and drive to visit Terracotta Warriors and Horses, the Tomb of  the first Qin Emperor – Qin Shi Huang, where thousands of life-size terracotta warriors from over 2,000 years old ancient China are waiting for your inspection.
Day 05 Xi'an B.L.D
After breakfast, you will firstly visit Big Wild Goose Pagoda. Built in 652 AD, Big Wild Goose Pagoda is regarded as the symbol of the ancient Xi'an. The seven-story pagoda is 64. 5 meters in height, modeled after the wild goose pagoda in India, hence the name. After that you will start your first volunteer experience by visiting Xi'an Children's Village and having lunch together with the children. The Children's Village was set up in 1996 in order to help the criminals educate and foster their under aged children. You may bring some gifts like books and stationery, or spend some time with them like teaching them English. Then transfer back to your hotel.
Day 06 Xi'an-Chengdu-Ya'an B
You will take morning flight to Chengdu, capital of  Sichuan Province and famed for its leisurely and slow-paced lifestyle. Our tour guide will meet you at airport and transfer to Ya'an Panda Breeding Centre, which is located in Bifengxia Town, Ya'an City. It's a giant panda's paradise with well captive raising, reproduction, rare wild animal rescuing and education facilities. Remainder of the day is at leisure. Overnight in Ya'an.
Day07 Ya'an B.L
Today you will have a full day volunteer work at the centre. First you will have a basic training course on how to take care of the pandas and the guidelines on working there. The contents of volunteer work include: Clean the bedroom and the garden for the giant panda; Prepare food, such as carrot, apples, panda bread and biscuit; Prepare food such as bamboo for the pandas. While you do volunteering work, you will have time to watch and photograph the pandas.
Day08 Ya'an B.L
Today you have chance to be a behaviourist, help researcher collect and analyse behaviour data of panda to better understand the minds and needs of giant pandas. You may collect your own data and analyze the collected data to write the report. You can also post your report on our website and let more people better understand giant panda and how to protect them.
Day09 Ya'an B.L
Today you will experience at Panda's kitchen. You will have chance to make the steamed corn bread for panda. Help Panda's cook to distribute the steamed corn bread for pandas. You also have chance to know how to choose different food in difference season. Today you will end your three days volunteer work with Panda.
Day10 Ya'an-Chengdu B
After breakfast we will drive 160km to visit Dujiangyan Irrigation System. Constructed in 256 BC under the leadership of governor Li Bing, the Dujiangyan Irrigation System was the world's oldest and only damless project that is still functioning, distributing waters of the Min River to the farmland of the Chengdu Plain, supporting a population over 10 million for more than 50 cities in the province. Late afternoon, you'll be transferred to hotel in Chengdu.
Day11  Chengdu-Shanghai B
Morning visit Thatched Cottage of Du Fu (Dufu caotang) in Chengdu's western suburb. Dufu is acclaimed "Sage of Poetry". He  resided in a thatched cottage at the site where he took refuge in Chengdu during a war. In the afternoon, you are transferred to airport and fly to Shanghai. Remainder of the day is at leisure.
Day12 Shanghai B. L
After breakfast firstly visit Shanghai Museum located in the center of Shanghai in People´s Square, Shanghai Museum is a large museum of ancient Chinese art, possessing a collection of 120,000 precious works of art. Then head for famous Yuyuan Garden. The garden was built buy a government official during the Ming Dynasty (1577), 400 years ago. It is typical of the gardening art south of the Changjiang River and is famed as "an architectural miracle in South China". Close to the garden is Shanghai's bazaar, a great number of small streets and lanes where vendors sell their products and food stuffs to the tourists and local people. After lunch, you'll have a visit to the Jade Buddha Temple, a popular tourist destination for its two magnificent white jade Burmese Buddha statues. Then you will stroll along the lively waterfront, known as the "Bund". It is located along the Huangpu River and shows off Shanghai's outstanding foreign buildings.
Day 13 Shanghai-Suzhou- Shanghai B.L
Today a day excursion takes us to Suzhou, a city described by the Chinese as a paradise on the earth. We visit the Garden of the Master of Nets, one of the smallest yet considered one of the best designed and most elegant of the private gardens in China. Then followed by Tiger Hill. Clearly visible on Suzhou's skyline and with a history of 2,500 years, Tiger Hill is a stunning visual and cultural symbol of Suzhou. After that you will have chance to the Embroidery Institute, which was founded in 1926 as a state-owned factory where you can gain a lot knowledge of the whole life of a silkworm and find some fantastic silks there. and the Grand Canals. the most ancient man-made canal in China and the world. Return to Shanghai in the evening.
Day14 Shanghai Departure B
At leisure till transfer to airport for homebound flight back.
Service included
A. Hotels (twin share basis) with breakfast
B. Flight or train tickets mentioned in the itinerary.
C. Private car or van with driver
D. English speaking tour guide
E. Entrance fees
F. Meals as listed in the itinerary.
Service excluded
A. International airfare or train tickets.
B. Tips to guides and drivers.
Reservation:
Tel: +86 178 1320 5162
E-mail: service@intochinatravel.com
Skype ID: intochinatravel